English
KENNEBEC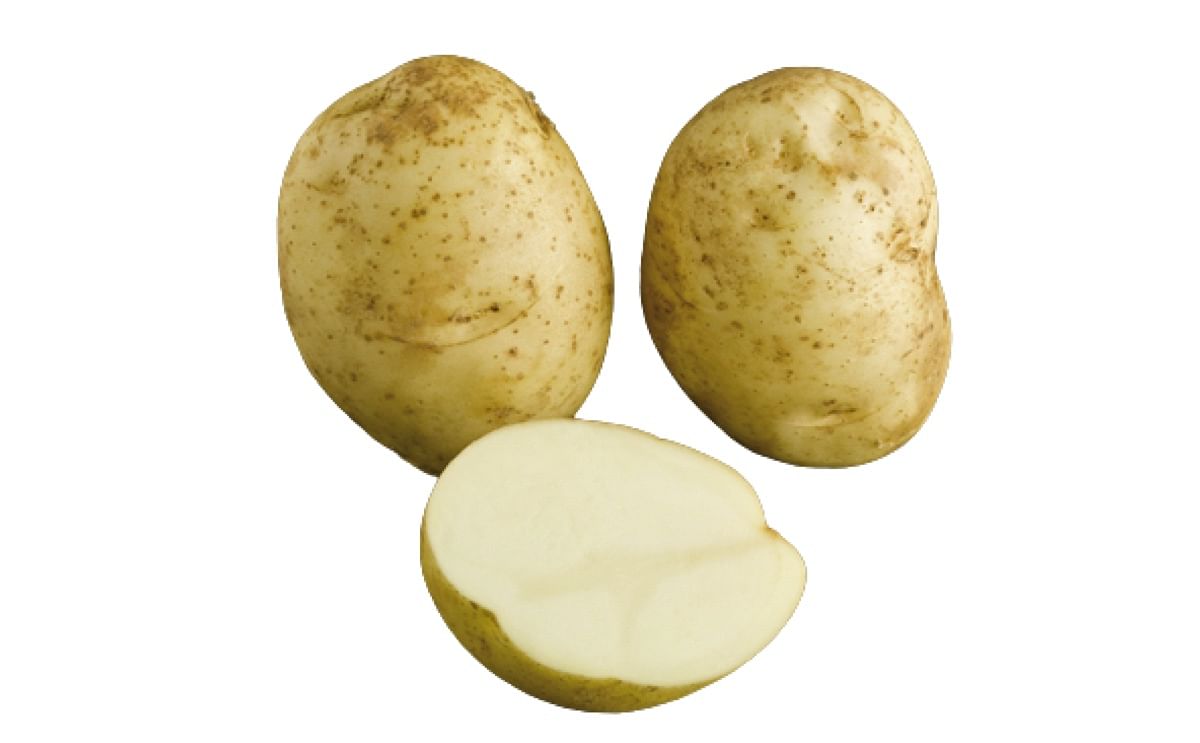 Potato Variety Information
Variety Name:
Kennebec
Rights Holder | Breeder:
USDA
Country of Origin:
United States
Year of of introduction:
1948
Variety Description
Kennebec is widely adapted and is grown in many parts of the world. At one time it was the primary variety used for potato chip processing in the U.S. and Canada.

It was also important in french fry processing. On the table stock market its reputation for good culinary quality was well known. The variety produces a high yield of large tubers.

Plants are main season in maturity. They are large, developing a dense canopy shortly after emergence. The plant is generally light green in color with no purple pigmentation. Leaflets are long and narrow. Flowers are white and often abort before opening.

Tubers are oblong, slightly flattened with shallow eyes. Tubers of this variety are characterized by a thin, smooth white skin. Under some conditions tubers are misshapen. Tuber conformation is best in cool growing conditions. Specific gravity is medium high and cooking quality is good. Dormancy is medium.

Kennebec represent determinate varieties (generally "early" varieties), producing one crop that is mature enough for harvest at roughly the same time.
 
Botanical Features

Plants: large, erect, spreading at maturity; stems thick, not pigmented, prominently angled.

Leaves: dark green, long, broad; midribs scantly pubescent.

Terminal leaflets: ovate; tip acute; base lobed.

Primary leaflets: large, ovate, four pairs.

Secondary leaflets: medium in number.

Tertiary leaflets: few to none.

Flowers: very few, large, white; scantly pubescent green buds.

Tubers: elliptical to oblong, medium thick; smooth creamy buff skin; shallow eyes; white flesh.

Sprouts: greyish green, faintly purple at the base.
 
Agricultural Features

High yielding fast growing variety, widely adapted. Requires close planting (15 to 20 cm between plants) and vine killing to avoid producing oversized and rough tubers. Excellent storage quality. Long dormancy period. High total solids.

Note: tubers grow green rapidly when exposed to light.

Utilization: good to excellent for boiling, baking, chipping and French frying.

Chief Markets: seed export, fresh market, chipping.
 
Reaction to Diseases

Field resistant: PVA, PVY.

Resistant: tuber net necrosis.

Moderately resistant: foliage late blight, black leg , fusarium dry rot (Fusarium coeruleum), phoma rot, potato wart, seed-piece decay, PVS and PVX.

Susceptible: common scab, fusarium dry rot (Fusarium sambucinum), tuber late blight, leaf roll, pink eye and rhizoctonia.

Highly susceptible: verticillium wilt.
Origin and Breeding History
Released by the USDA and the Maine Agricultural Experiment Station in 1948. The variety was selected from a cross between B127 and USDA 96-56 and was tested as B70-5. Published in American Potato Journal 25:351-361, 1948.
News for this Potato Variety