简体中文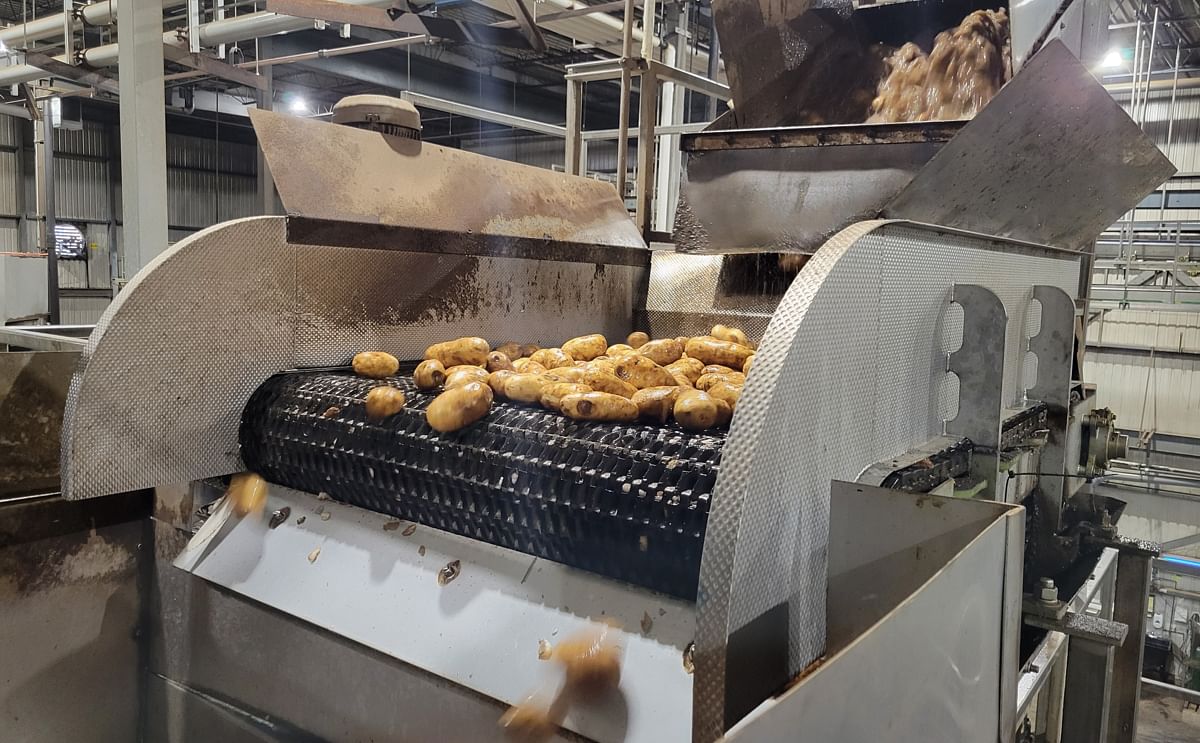 Whole potato dewatering is no easy task, especially due to the abrasive nature of potato receiving. This challenge was no different for the Michel St-Arneault, a french fry processing plant in Canada, located in Saint Hubert, Quebec. On average, 30,000 lb. (13 tonnes) of raw potatoes are delivered to the steam peeler each hour via a fluming system at the plant.
Before the upgrade, the dewatering screen installed in the line wasn't allowing enough water to drain prior to discharge into the evenflow bin feeding the peeler, presenting an obvious issue for the peeling process.
In 2018, Plant Manager Martine Fortin reached out to Charlottetown Metal Products (CMP) and Intralox for an improved dewatering solution. The solution had to take layout constraints into consideration because only 4 ft (1.2 m) of linear space was available.
Mrs Fortin stressed five important needs: increased belt life, no debris buildup on the belt, access for sanitation, proper gaps between the belt and the water containment hopper, and an increased speed up to 40 ft (12 m) per minute to ensure proper loading into the peeler's evenflow bin.
CMP and Intralox partnered to develop the optimal solution for this challenging application.
Intralox recommended its Series 1750 Flush Grid modular plastic belt. The S1750 Flush Grid belt is designed specifically to address highly abrasive potato applications. It uses next-generation, abrasion-resistant technology and has large openings for high volume water flow and drainage.
CMP designed and manufactured a custom stainless-steel conveyor with a dewatering hopper that fit within the process line constraints. The conveyor design included high side guards, backing plates, and chutes to ensure product containment prior to discharge into the evenflow bin. Additionally, the rod screen was repositioned as part of the installation.
CMP and Intralox ensured proper belt path and chevron carryway design and installation, and special urethane wearstrips to secure maximum belt and carryway life performance. Four years and millions of pounds later, the CMP/Intralox solution hasn't required any extra maintenance.
Martine Fortin: 
"The plant has seen substantial reduction in peeler maintenance with the CMP/Intralox solution, and less water and dirt transfer into the steam peeler!"
产品
Intralox Series 1750 Flush Grid Belt
The new Intralox® Series 1750 Flush Grid belt takes abrasion resistance to a new level. It is a superior solution for use in the harsh conditions wet (potato) receiving lines.