简体中文

Pulsemaster, a leading manufacturer of Pulsed Electric Field (PEF) systems to the potato industry, welcomes Key Account Manager Ben Lemieux to the team to cover the Americas Region. Based in New Brunswick, Canada, Ben Lemieux joins Pulsemaster with 28 years of food processing experience. Coming from the French Fry and Appetizer/Snack industry, Ben has lead plants and regional teams of experts in multiple facets of the business.
From factory operations, continuous improvement initiatives, technical and engineering services, major capital projects execution, and most recently, global capacity improvement efforts, Ben has a wealth of experience and knowledge of the entire supply chain needs in the food industry.
Pulsemaster aims to utilize Ben's expertise to strengthen the company's position in Pulsed Electric Field food applications in the Americas.
Ben will be assuming the role of Key Account Manager for the North and South American region. His focus will be to support current customers by optimizing their systems and working with new customers, introducing them to the vast benefits of our Pulsemaster PEF-units.
The innovative Dutch-German company Pulsemaster continues to specialize in Pulsed Electric Field processing and aims to apply this innovative technology - also known as electroporation - to the widest possible range of applications in the food industry.
Mark de Boevere, Managing Director at Pulsemaster: 
"Pulsemaster has the ambition to scale up Pulsed Electric Field processing across food systems. At Pulsemaster we want to make a positive difference for our customers and by that also for the world we live in."

"We meet customers, and we talk about our solutions, how they can improve their operations and businesses. That is why we exist, to make our customers more profitable and more sustainable."
Mark de Boevere: 
"We are really pleased to have Ben as part of the team."Ben Lemieux's solid experience in the food industry will reinforce our efforts to work even more closely with our customers in the Americas."
Ben Lemieux: 
"I am very excited about my new role and I really look forward to being part of the Pulsemaster expansion in PEF food applications."

"At Pulsemaster, we continue to welcome new contacts from commercial food companies, interested in exploring specific applications of PEF technology in the processing of their healthy and delicious foods and beverages."
PEF technology offered by Pulsemaster aims to exceed the processing industry's needs in the production of natural and food safe consumer products. In 2022, Pulsemaster introduced a new PEF- system for processing the largest peeled and unpeeled potatoes experienced by some customers in North America.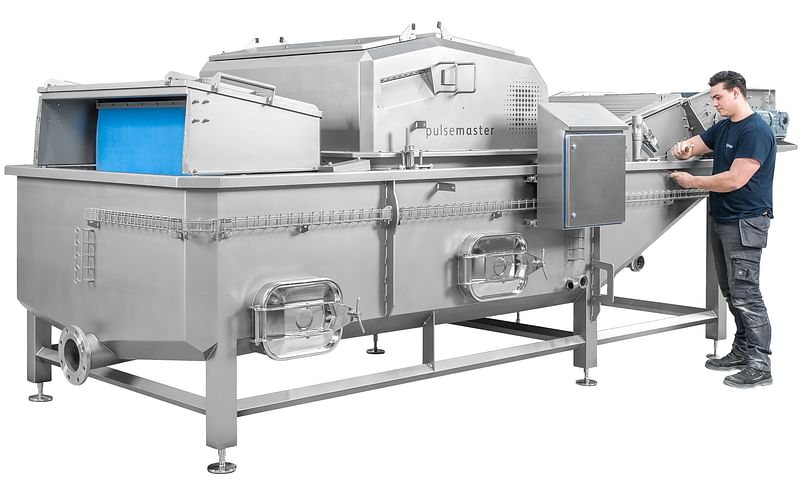 Pulsemaster PEF system
The technology is intended for use on high capacity lines for French fry processors in the Pacific North West region and for sweet potatoes applications. Specially designed for big, raw material applications, the system also features a Clean In Place CIP of the PEF treatment tank unit in order to facilitate sanitation efforts.
产品
Pulsemaster Conditioner Turnkey Industrial PEF Solutions
Pulsemaster Conditioner Turnkey Industrial Pulsed Electric Field Solutions are complete, fully integrated and modular systems for either cell disintegration of solids or microbial inactivation of liquids on an industrial scale, built according to the customer's production requirements.