English
Company Description
Lutosa is a Belgian french fry manufacturer with two production locations.

Lutosa was taken over by Pinguin in 2007 to form the company Pinguin-Lutosa.

In 2013 the potato processing activities of Pinguin-Lutosa were sold to McCain Foods, to form once again the company Lutosa as a subsidiary of McCain Foods.

Lutosa's Managing Director Erwin Wuyts reported that in 2016 the company had processed 750.000 tonnes of potatoes into 425 tons of potato products (frozen and chilled french fries, potato flakes).

Early 2017, Lutosa was said to employ 1000 people (850 employees and 150 interim employees).
Products Offered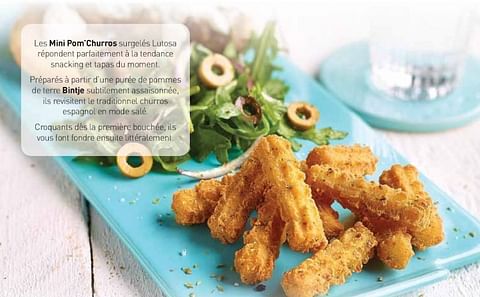 Lutosa Mini Pom'Churros
The Mini Pom'Churros revisit the traditional sweet Spanish churros, but this time in a salty variant, based on a slightly seasoned mash made from flavourful Bintje potatoes.
Agent for the following companies