Idaho is the top contributor to the total United States potato harvest, contributing almost a third of all potatoes grown in the United States.
With [count] french fry factories Idaho is also the place where most potatoes for french fry production are grown and processed.
Sixty two percent of all Idaho® potatoes are used to make processed products such as frozen and dehydrated; 29% are shipped fresh and 9% are grown for certified seed. 
(Click to enlarge)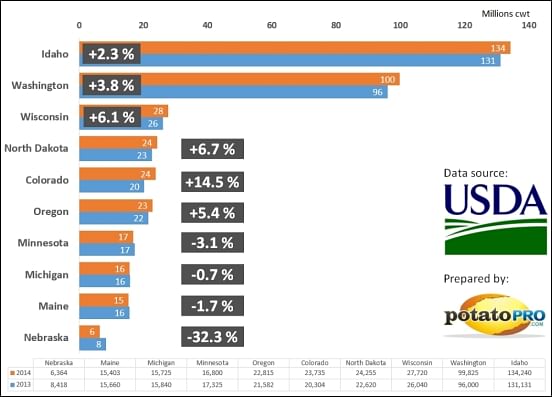 US Fall Potato Production: Top Ten States. Source: USDA-NASS: Potato Stocks (December 2014)
The top potato varieties grown in Idaho (fall harvest 2016, by acreage) are: 
Russet Burbank (51.3%)
Russet Norkota (16.7%)
Ranger Russet(13.1%)
All other varieties count for less than 3% of the Idaho Fall acreage. 
Current FOB Shipping Point Prices