English
Optical sorting machine reduces costs and convinces with efficiency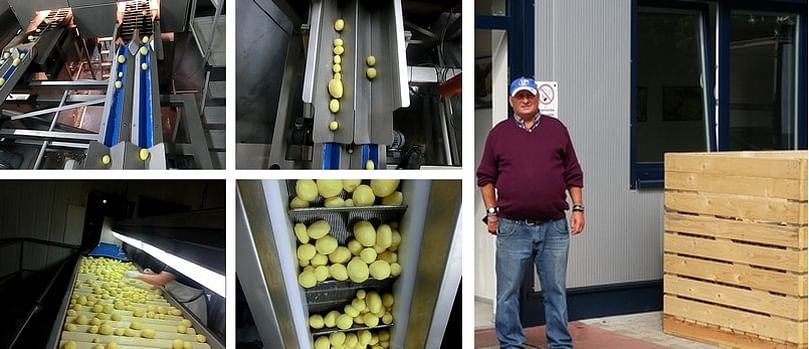 Eugen Borgmann has run the potato peeling company "querbeet" at the farm Borgmann for the last 20 years. The family business, with a specialization on asparagus while seasonal, has grown steadily since. "At the moment we are using our sixth new peeling line," explains the businessman. Borgmann produces his own potatoes at 90 hectares and knows exactly what is important for a sorting machine. "With the amount of potatoes we process we need a reliable machine. If we have a problem or want to change the settings we need support fast. So we decided for an optical sorting machine of Marcellissen."

Theory and practice

The farm in Bottrop-Kirchhellen has been cooperating for 16 years with the company Marcelissen states Eugen Borgmann. "We've looked at several different machines from different manufacturers. But the direct contact with the manufacturer is very important for us. We only need to call out to the Netherlands and we get help immediately," states the owner. A technician in Holland can log in the system remotely and solves the problem or optimizes the settings according to the customer's wishes. "Our suggestions for improvements are implemented directly." Theory and practice are combined. "And that really works and we are very satisfied. And if there is a problem then it gets resolved immediately."

Savings

Another reason to choose this machine from Marcelissen is the minimum wage law of the German government. Eugen Borgmann explains: "We purchased the machine to save on labour costs. We used to spend 120,000 Euro on wages at the sorting table before we bought the machine. Now we only spend 20,000 Euro on wages, so the optical sorting machine saved us 100,000 Euro." So in about three years the machine is completely paid for itself explains the entrepreneur.

Fast and effective: "Like clockwork"

The machine enables the family business to work faster and more effectively. "We save time and money. The sorting is faster and the quality of the potatoes remains stable. A human loses its concentration after two or three hours. That means that the quality decreases after a few hours. But the machine just goes on. It runs, with the right care, like clockwork."

An investment in the future

It is an investment in the future according to Eugen Borgmann. The expert is certain that "In future the demand for these machines will continue to grow. The wages in Germany will keep on increasing until 2017 to 9.10 Euro per hour due to the minimum wage laws." For many potato peeling companies a reason to investigate the alternatives.