English
TOMRA 5C Optical sorting machine wins prestigious Japan Food Journal Award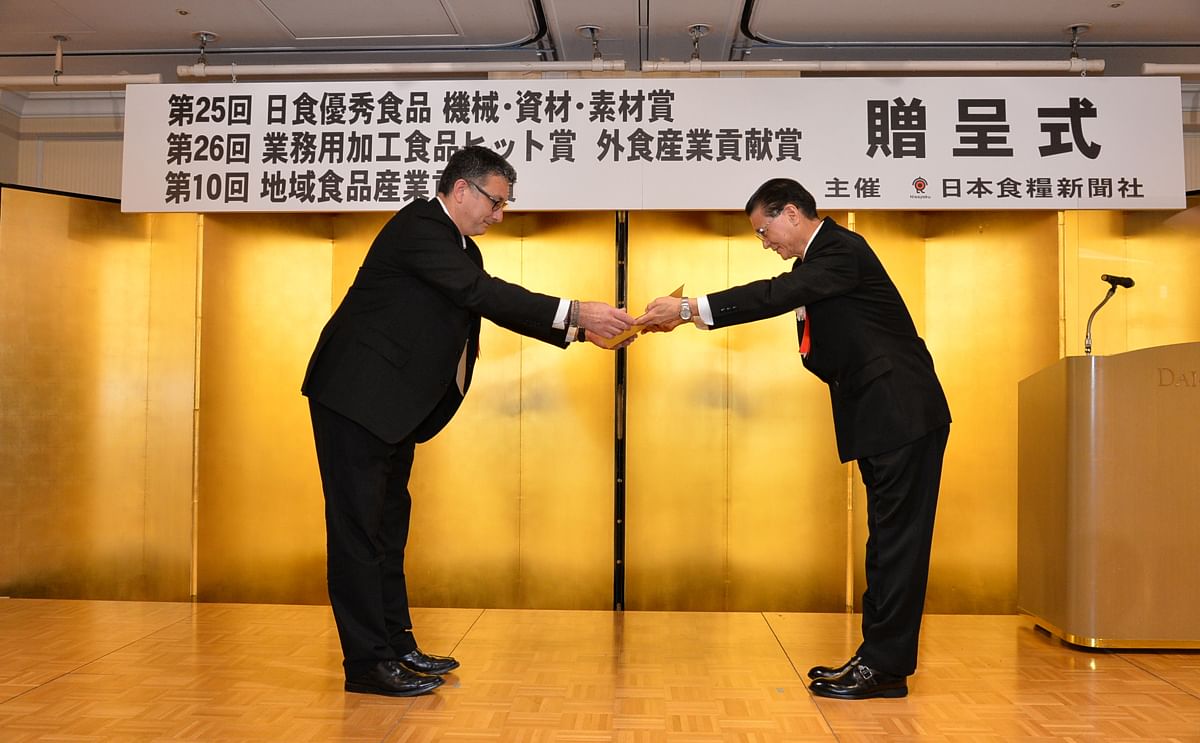 The TOMRA 5C premium sorter has won the machine category award in the prestigious annual Japan Food Journal Awards.
Mr. Eizo Oda, Chairman of the Japan Food Distribution Association, presented the prize to TOMRA Processed Food's Regional Sales Director for the APAC region, Steven Van Geel, at the official awards ceremony at the Daiichi Hotel in Tokyo, where the guest of honor was Mr. Tetsuro Nomura, Japan's Minister of Agriculture, Forestry and Fisheries.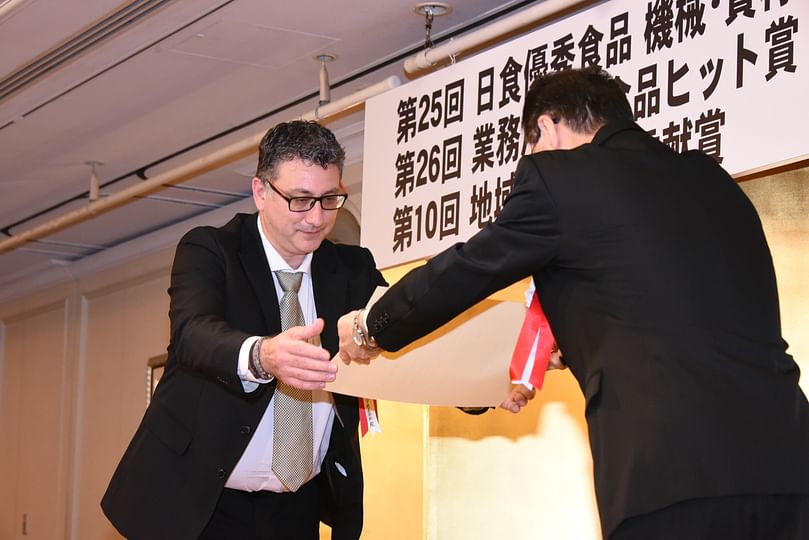 TOMRA 5C Optical sorting machine wins prestigious Japan Food Journal Award
Now in their 25th year, the Japan Food Journal Awards spotlight products that support the development of the food industry through innovation. Judges look for contributions to creating new food products, cost reductions, and improved manufacturing efficiency.
The TOMRA 5C optical sorter won the Machine Award because it sets new industry standards in accuracy, efficiency, and ease of use by employing digital tools and AI technology.
Steven Van Geel: 
"TOMRA Food is proud that the high-precision, high-capacity TOMRA 5C sorter has been recognized in this way. This honor is important to us, not only here in Japan, where the food industry sets exceptionally high standards."

"But also throughout the APAC region, where many food businesses export their products to Japan. In TOMRA's 50th anniversary year, this is something else to celebrate."
The Awards' machine category is open to food-related machines, robots, equipment, and software. There is also a category for packaging containers and materials, and another for food additives, flavors, and raw materials. The judges' panel comprises six senior executives from Japan's food industry and the President of The Japan Food News.
A combination of sophisticated detection technologies
he TOMRA 5C was introduced this June to Japan and other markets in the Asia Pacific region after first being rolled out across Europe and the USA. Initially tailored to sorting dried fruit and nuts, this machine was calibrated for sorting frozen vegetables and fruit.
It delivers unrivaled sorting accuracy by combining industry-leading sensors and high-resolution lasers with TOMRA's unique Biometric Signature Identification (BSI+) technology, AI machine learning, and big-data analysis.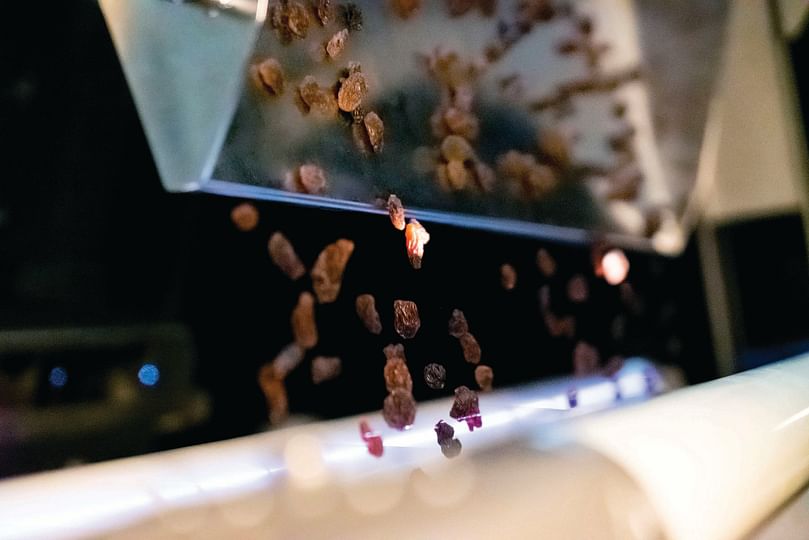 TOMRA's unique Biometric Signature Identification (BSI+) technology
With BSI+, every object passing down the processing line is assessed for color, shape, and biological characteristics. By looking inside materials with next-generation spectral imaging, BSI+ clearly contrasts good and bad materials and can detect smaller defects than conventional spectral technology.
With AI machine learning, the TOMRA 5C continually improves its accuracy in detecting defection. AI also empowers defect classification software, including the button-activated "magic wand", a feature with which machine users can set new sorting programs with an accuracy previously only attainable by service engineers.
Big-data analysis is made possible by connecting the TOMRA 5C to the cloud-based data platform TOMRA Insight. By accessing live data from the sorter, operators can make almost instant improvements to line efficiencies.
And by accessing data retrospectively, it becomes possible to quantify the standards of raw materials from suppliers and to make better-informed business decisions. Another advanced digital tool that helps TOMRA 5C users attain better machine performance and more uptime is Visual Assist.
Through the use of a smartphone, or Smart Glasses, and augmented reality, TOMRA's experts can provide remote support to a customer or Field Service Engineer just as if they were standing in front of the machine.
This enables quick resolution of a broad range of issues with the expert's additional support. TOMRA Visual Assist is also a valuable tool for delivering training.
For dried fruit and nuts, the TOMRA 5C protects against foreign materials, cross-contamination, and even the smallest product defects. Sorting nuts, it recognizes and removes allergens, shells, peewee in-shell, gummies, testa, skin marks, butterballs, stink bugs, and more.
For frozen vegetables and fruit, the TOMRA 5C is located on the processing line between the IQF tunnel and packing station to make final checks for food safety and product quality.
This removes any remaining foreign material, extraneous vegetable matter, and hard-to-detect product defects, such as stems and stalks with green beans and nightshade with peas.