English
AgroScout Crop Scouting Package (Drone + Software)
AgroScout Crop Scouting Package (Drone + Software)
Product Description
Scouting App
High-resolution drones are nearly a $1,000 commodity, but when used alone, they haven't proven to be an efficient solution for crop scouting.
To collect high-quality images spread across your entire field, you need an auto-scouting app. With our app, you can easily mark the field or area you want to scout and then dispatch the drone to autonomously collect the required data.
Optimized flights for cross-field sampling
Mark fields with the touch screen
Fully autonomous from take-off to landing
Web-Based AI Reporting & Analysis
This is where the "real magic" comes in. The platform uploads the images from the drone memory and scans them to identify pests and diseases.
The platform generates an internal report to send to our network of crop specialists for proofing. Once approved, you receive a notification that the report is ready. It's added to your account for viewing on your desktop (Web-based app) or phone (Scouting app).
Specific pest or disease tagging
Access findings in the field or the office
Share findings with your agronomist
GPS Tagged Findings
This app shows you where the infections are in the field. And just like road navigation apps, the app will help you "navigate" to each infected location.
There are options to report your findings manually and to record chemical applications. Agronomists or crop advisers you are working with (or from the AgroScout network of agronomists) can also send their recommendations via the app.
In-app navigation to infected locations
Apply chemicals locally
Enables damage-reconnaissance flight over infected areas
News related to this product
Products offered by the same supplier(s)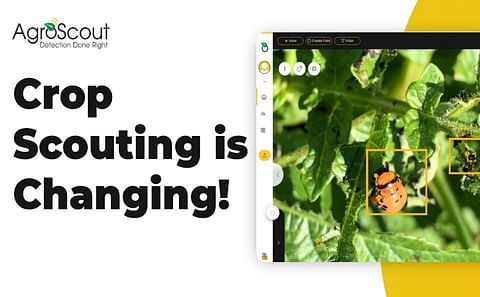 Crop Scouting Package (Drone + Software)
AgroScout now offers a complete Crop Scouting Package (Drone + Cloudbased Software).