简体中文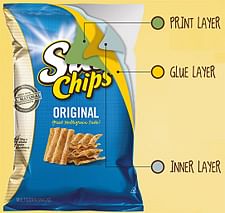 In October last year we wrote in a PotatoPro Newsletter about
biodegradable snack bags and addressed the noise issues Frito-lay had with their SunChips packaging
.
Now Frito-lay has reduced the noise of the biodegradable SunChips packaging and are now introducing Quieter 100% compostable SunChips bags.
The sound reduction was achieved by changing the glue that holds two layers of the packaging together.
Frito-Lay explains how they made the SunChips bag quieter in their
snack chat blog
(by Kristin):
Introducing a Quieter 100 Percent Compostable SunChips Bag!
I'm excited to share that we're now officially rolling out a next-generation 100 percent compostable SunChips bag that's significantly quieter than the first-generation compostable bag we debuted last year. While the packaging graphics will look the same, you'll be able to hear the difference when you open your next bag of SunChips Original.

After SunChips lovers shared feedback on the original compostable bag, Frito-Lay Research &Development teams explored a wide range of potential enhancements to reduce the noise. "It was interesting -- we got a lot of extremely positive feedback ... but on the same hand we heard one overwhelming complaint,"Brad Rodgers, sustainable packaging manager, PepsiCo Advanced Research, told The Associated Press this week. Brad then explained that engineers looked at dozens of possible options and found that using a more rubber-like adhesive in the bag composition absorbed some of the sound.

SunChips' compostable bag is made up of three layers -- an outer layer with the SunChips logo and picture on it, an inner layer that surrounds the chips inside the bag and an adhesive layer in the middle that holds the outer and inner layers together. By using a different adhesive that still meets performance requirements, our research teams were able to eliminate a significant amount of the stiffness in the original compostable bag, which is what caused the crinkly noise.

Like the original compostable bag, this new SunChips bag is made from a renewable, plant-based material called PLA, or polylactic acid, and is 100 percent compostable. In fact, the bag will break down in approximately 14 weeks if the compost temperature is maintained above ~130 degrees Fahrenheit, which is about as long as it takes to compost an orange peel under the same conditions. You'll see the compostable bag on specially marked packages of SunChips Original, which are rolling out to stores now and will be available nationwide this spring.

We encourage you to continue providing your feedback on the compostable bag by sharing comments here on Snack Chat or on the SunChips Facebook page.