简体中文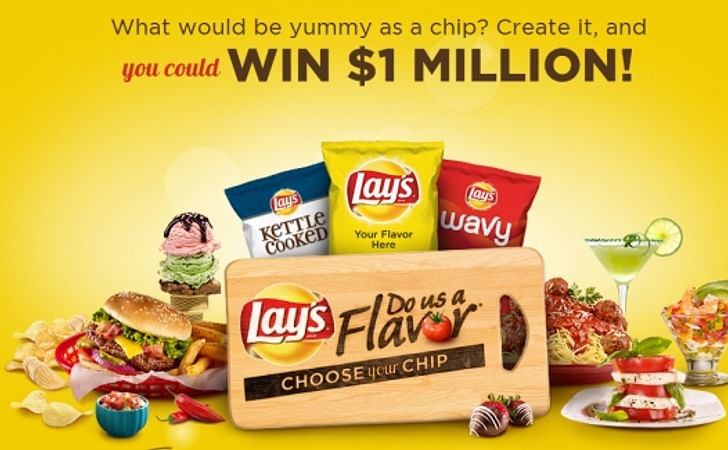 Back by popular demand, Lay's, one of the marquee brands from PepsiCo's Frito-Lay division, today announced the return of its "Do Us A Flavor" contest in the United States, which invites fans nationwide to submit their ideas for the next great potato chip flavor for the chance to win a $1 million grand prize.

Building on its previous success, this year's contest offers Lay's consumers even more opportunities to demonstrate their passion and creativity for potato chip flavors. Fans will now be able to choose from three potato chip forms – Lay's Original, Lay's Kettle Cooked and/or Lay's Wavy – for their flavor ideas, and this time around, a fourth finalist flavor will be created and brought to store shelves.

Submissions are now open at www.dousaflavor.com.

Following its U.S. debut in July 2012, the Lay's "Do Us A Flavor" contest quickly became a pop-culture phenomenon with millions of entries from every corner of the country. From "grandma's secret sauce" to "a favorite restaurant dish," the "Do Us A Flavor" contest entries proved that just about everybody has a great potato chip flavor idea.

As part of this year's competition, the Lay's brand will celebrate fans' flavor ideas by creating real-time, personalized content that will be shared via Twitter and Instagram. This includes a partnership with Emmy Award-winning entertainer Wayne Brady, one of the most versatile performers in show business today, who will celebrate contest submissions in real-time on launch day through the creation of flavor-inspired digital content. Today from Noon – 6 p.m. (EST), Brady who became well-known for his improvisational talent on TV's "Whose Line Is It Anyway?" will put his skills to the test by selecting consumer flavor ideas that are submitted to DoUsAFlavor.com and then shared on Twitter, and turning those submissions into comedic sketches and musical videos that will be shared through www.twitter.com/lays.

"Food and flavor are such a natural passion point for people – when you think about it, everyone has a story to tell about a great meal or the first time they tried their favorite dish," said Brady. "The hope is that by having some fun and celebrating these unique flavors, we'll help inspire even more delicious flavor ideas for America's consideration."

Now through April 5, 2014, fans can submit their flavor suggestions on www.dousaflavor.com, through Twitter (follow @Lays for details), on www.YouTube.com/Lays, through the Lay's Facebook Page or by using their cell phone to text FLAVOR to CHIPS (24477).

To submit, fans will be asked to provide their name, flavor name, up to three ingredients, the chip style and a 140-character description or inspiration for their flavor.

"Even though we could only pick one grand prize winner last year, the millions of delicious ideas submitted by fans demonstrated that we have only begun to scratch the surface of the possibilities we could bring to the snack aisle," said Ram Krishnan, vice president of marketing, Frito-Lay. "This time around, we're offering consumers even more opportunities to demonstrate and celebrate their creativity – and love of yummy flavors – throughout the contest. We can't wait to see what America's taste buds will inspire next."

The "Do Us A Flavor" contest has been held by PepsiCo in numerous countries with consumers suggesting more than 12 million ideas for chips flavors around the world. In July 2012, the Lay's brand launched its first "Do Us A Flavor" contest in the U.S. and asked fans around the country to pick the next great potato chip flavor. From bacon to apple to cheese, fans offered nearly four million potato chip flavor ideas.

Lay's Cheesy Garlic Bread, Lay's Chicken and Waffles and Lay's Sriracha flavored potato chips were selected as finalists, created and brought to store shelves, and then it was up to consumers to determine a winner. In May 2013, after millions of fan votes were cast, it was announced that Lay's Cheesy Garlic Bread flavored potato chips were America's favorite, and Karen Weber-Mendham, a children's librarian from Land O' Lakes, Wis. and the finalist behind the winning idea, took home the $1 million grand prize.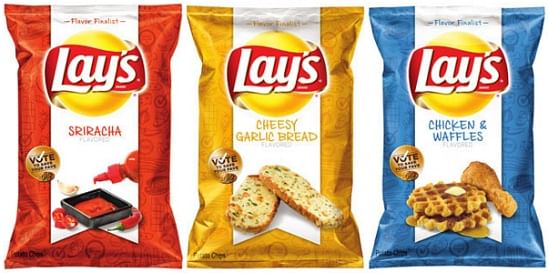 Do-us-a-flavor finalists in the United States in the previous contest
As part of this year's contest, a judging panel made up of chefs, foodies and flavor experts will narrow down the contest submissions to four finalist flavors. The four finalist flavors will then be fully developed by Frito-Lay's culinary experts and unveiled in summer 2014. From there, it will be up to fans to vote for the finalist flavor they want to see stay on store shelves.
The winning flavor – as determined by fan votes – will be revealed in November 2014. The three runner-up finalists will each win $50,000 in prize money, with the grand prize winner taking home $1 million or one percent of their flavor's net sales (whichever is higher) for the period July 1, 2014 through July 1, 2015.
More details and official contest rules are available at
www.dousaflavor.com
.