English
National French Fry day a success in French Fry Capital of the World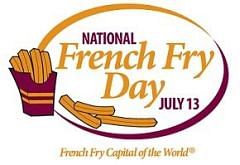 The Town of Florenceville-Bristol, French Fry Capital of the World and hometown of McCain Foods hosted National French Fry Day celebrations with free fries and fun activities for all.
People of all ages enjoyed hot, crispy golden McCain French Fries and were welcomed to the day's festivities by Crispy, the new Town mascot, who helped kick off the day's events at Potato World.
The crowd cheered during the French fry cutting competition as local dignitaries competed to be crowned top French fry cutter. Fries flew in buckets as local area MP Mike Allen, MLA Dale Graham, and Fire Chief Andrew Cougle, along with the matriarch of Stephenson Farms, Eldine Stephenson, and Peter Tweedie of Lakeside Farms, McCain Champion Grower, went cutter-to-cutter for a win. Peter Tweedie of Lakeside Farms took the title of fastest fry cutter, producing 15.08 kilograms of fries in three minutes.
4-H members handed out French fry recipes, greeted visitors, and sold potatoes to customers. Local residents enjoyed creating French fry art, planting seed potatoes, face painting, live music, touring Potato World Museum and entered to win free McCain French fries for a year.
"French fries have a bad rap, but they're better than you may think. McCain fries, for example, are made with simple ingredients like 100 per cent real potatoes and canola oil and are trans-fat free, cholesterol free and low in saturated fat,"said Lois Ferguson, Registered Dietitian. "People should enjoy their food without the guilt. Take the time to stop and savour the taste, texture and smell and keep an eye on the serving size. What's better than hot, crispy golden French fries?" "When consumed in moderation, French fries can be part of a healthy lifestyle and today there are so many tasty options such as low fat and low salt," continued Ferguson. "I also recommend consumers check the Nutrition Facts Table and choose the option that's best for their family."
On National French Fry Day, why not celebrate some fun fry facts?
One in every three French fries you eat anywhere in the world is a McCain Fry.
Potatoes are the fourth largest food crop in the world following rice, wheat and corn.
Historians say that French Fries were enjoyed as early as 1680 in Belgium.
On average a person will eat 103kg of potatoes in their lifetime – that's about 500 medium sized potatoes or the equivalent of about one potato a week for 10 years.
View pictures of this event on the PotatoPro Facebook page
Source: McCain Foods Canada