English
Belgian fries exports to Malaysia to double over next 3 years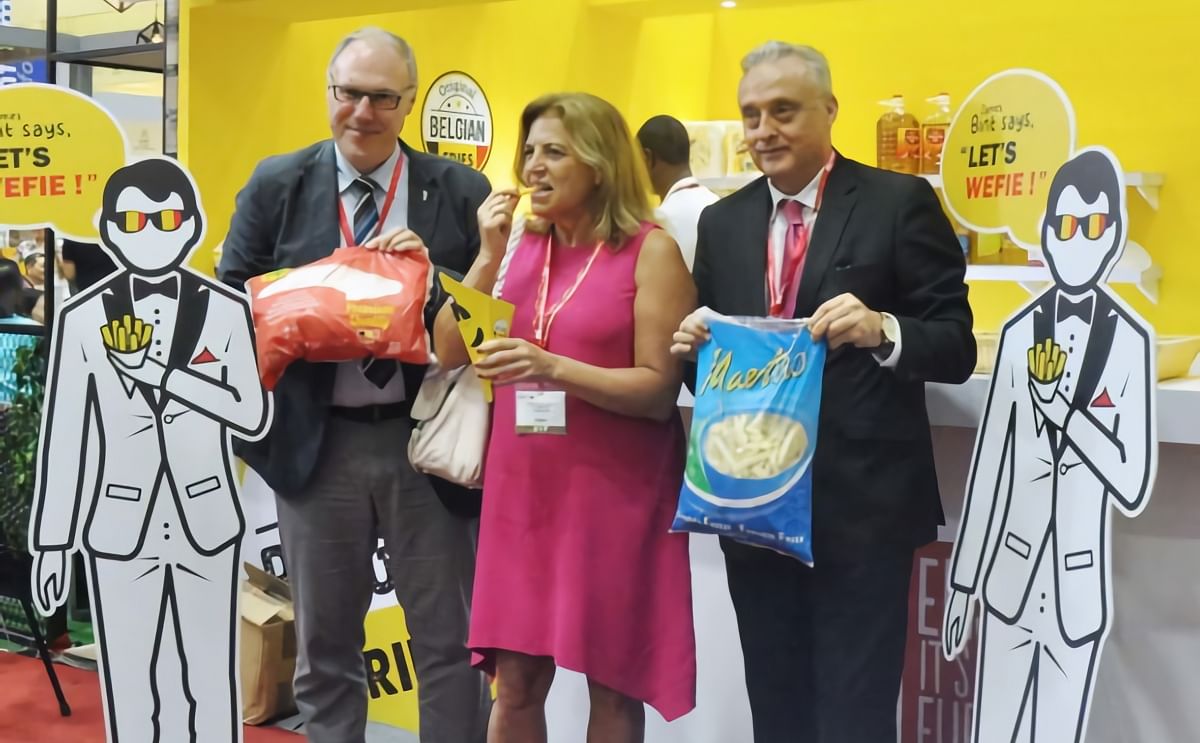 Belgium, the world's biggest potato exporter, hopes to ship in more frozen potato fries to Malaysia via its marketing campaign and collaboration with restaurateurs and fastfood operators here.

Romain Cools, secretary general of Belgapom:
 
"Belgian chocolates are famous all over the world. Today, we're seeking to promote Belgian fries here which is already consuming close to 10,000 tonnes per year."
Belgapom is the association for the Belgian potato trade and processing industry which promotes exports of 4.4 million tonnes of potatoes a year.

"Malaysia is a fast growing market for Belgian potatoes," he told reporters at a media conference and cooking demo at the Food & Hotel Malaysia 2017 held here today.

Belgapom's participation in the Food & Hotel Malaysia 2017 is part of a five-nation promotion campaign in southeast Asia coordinated by Belgium's Flanders' Agricultural Marketing Board.

Among exhibitors at the Belgian Fries Pavilion are Agristo, Bart's Potato Company, Clarebout Potatoes, Ecofrost and Mydibel. They represent the five biggest family-owned businesses in Belgium offering a wide range of halal-certified frozen potato products and specialities.

Romain Cools:
 
"This is the coming out year for Belgian fries in Southeast Asia and we see good opportunities to collaborate with restarateurs here."

"Already, Belgium is the world's biggest potato exporter shipping out 4.4 million tonnes last year. As we continue to improve on our farming yields, we hope to achieve five million tonnes in exports by 2020."
Also present were ambassador and head of the EU delegation to Malaysia Maria Castillo Fernandez, Belgium ambassador to Malaysia Daniel Dargent and Belgium trade commissioner Eric de Lame.

Cools said Malaysia ranks 11th among the biggest buyers of Belgian potatoes. Last year, Malaysia spent RM306 million or €64.5 million on 65,718 tonnes of imported potato fries, of which 9,689 tonnes were from Belgium.

Romain Cools:
 
"With rapid urbanisation and rising middle class, Malaysian consumers are increasingly savvy and look for new food experiences like Belgian fries. Malaysia is also a country visited by many tourists and a launchpad under the Asean Economic Community single market."

"We seek to increase our market share here for potato fries. Belgian fries is in third placing here as most of the potato fries served at fastfood restaurants are being imported from Northern America and the Netherlands."