English
Afghan Bamiyan people turn to potato-growing to make a living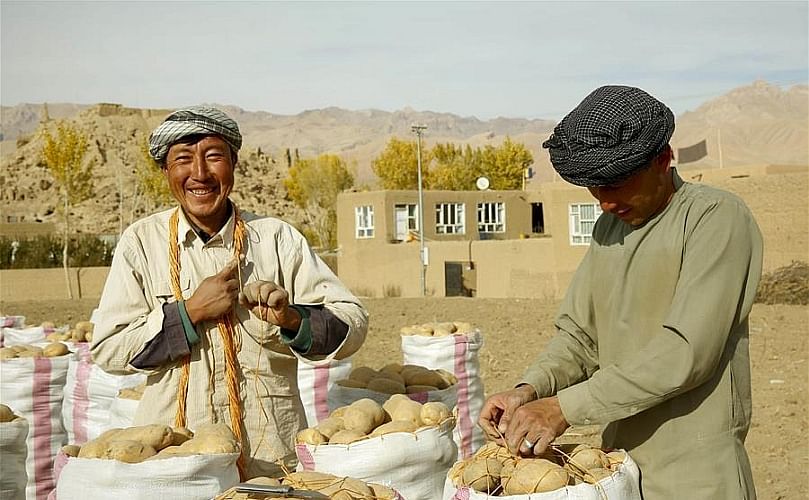 The picturesque Bamiyan province with its beautiful landscape has been a popular tourist destination in the conflict-ridden Afghanistan over the past decades, and growing potatoes in recent years has added to Bamiyan's natural charm.

Abdul Wahab Mohammadi, director of the agriculture department in the provincial capital of Bamiyan city"
 
"Growing potatoes in the central Bamiyan province has become the source of income for the more than 60,000 farmers here."
The mountainous Bamiyan, according to its dwellers, is a natural prison, a reference to its geographical location which is surrounded by mountains and rocky hilltops. 
The region has arable lands, streams, pastures and plateaus, suitable for growing potatoes and animal husbandry. 
Abdul Wahab Mohammadi: 
"Farmers in Bamiyan are expected to harvest 340,000 to 350,000 tons of potatoes this year, although the drought has affected the potato cultivation."
"Potato plantations have changed our living conditions over the past 10 years."

"Bamiyan has a cold climate which is not suitable for growing rice or wheat, but it's suitable for growing potatoes."
Bamiyan resident Ghulam Ali 
"Presently, the price of one sir (7 kg) of potatoes is about 80 afghani (1.06 U.S. dollar) at the local market."
He harvested about 750 sir (5,250 kg) of potatoes, and is hopeful to earn about 800 U.S. dollars at his doorstep this year.
While the insurgency-battered country produces much of the world's opium, Bamiyan remains poppy-free over the past decade and half.
To encourage potato cultivation and find market for the product, the provincial administration has been holding "Potato blossom Agricultural festival" annually to put on display a variety of potatoes and potato products.