Retail prices of potatoes are expected to remain stable in the next three months, despite monsoons being right at the doorstep in most parts of the country as rabi production in key growing states of Uttar Pradesh and West Bengal has exceeded all estimates.
Traders and analysts said that prices would also remains stable as warehouses in these two states, which produce more than 70% of the country's annual potato output, are overflowing with stocks.
According to an agriculture ministry official, while production of potato in Uttar Pradesh this year is estimated to be 12 million tonne, West Bengal has produced more than 9.5 million tonne. "With production crossing a record 25 million tonne as against close to 20-22 million tonne last year, prices would remain stable during the next few month," the official said.
According to department of consumer affairs data, retail prices of potato in Delhi had declined from Rs 13 a kg to Rs 10 a kg, in the last six months.
Similarly, in Hyderabad potato prices have come down by 50% during same period from Rs 20 a kg to Rs 10 a kg.
In December 2009, potato prices skyrocketed to a high of around Rs 25 per kg in most metropolitan cities because of low production, mainly in West Bengal. Potato production in West Bengal was only 5.5 million tonne in 2009 because of blight disease.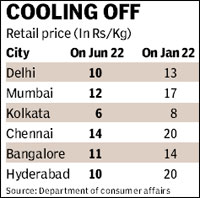 "Potato prices decreased significantly from February onwards as arrivals increased from key producing states.
Model prices of potatoes have been in the range of Rs 300 to 450 per quintal in some producing markets, which is less compared to last year due to bumper harvest," Nashik-based National Horticulture Research and Development Foundation (NHRDF) observed in its latest crop prospects report.
Agriculture ministry official said that while in Uttar Pradesh potato production has increased by around 10% to 12 million tonnes, in Punjab, production has increased by 5-7%.
Meanwhile, at NCDEX, spot potato (Agra) price was quoted at Rs 458 a quintal while September futures on the same exchange traded at around Rs 504 per quintal. More than 60% of the potato crop is grown during the Rabi season, which comes into the market around April and May.