English
Insort Sherlock In-Line Food Analyser Anuga FoodTec Award 2015 Gold Medal Winner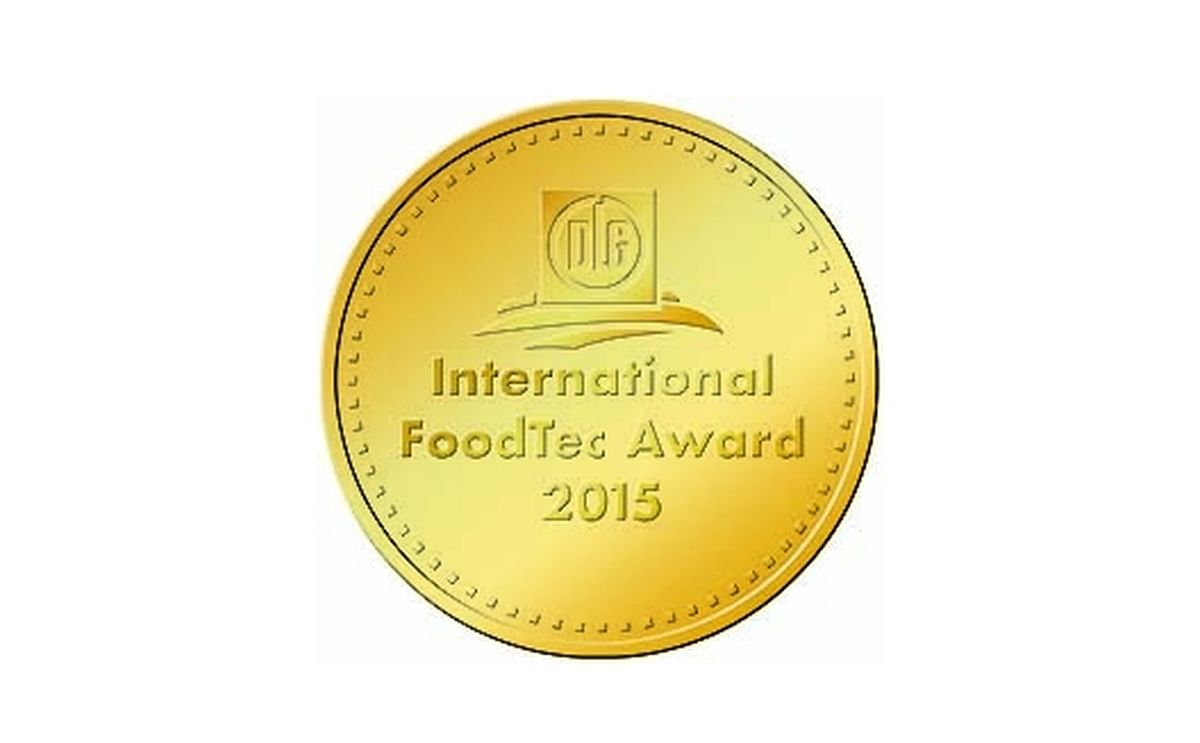 Insort GmbH is one of the winners of the International FoodTec Awards in the category GOLD.

Insort received the award for its Sherlock Food Analyser (Sherlock Analyst).

The Sherlock Food Analyser - enables you to integrate a chemometric analysis in your process IN-LINE.

No matter whether it is a question of fresh, dried or deep-frozen goods, thousands of measuring values a second will be furnished by our FEED FORWARD REAL-TIME TECHNOLOGY.


Insort GmbH, is going to present its latest development in the field of process monitoring at the Technical Fair Anuga FoodTec 2015, which will take place in Köln from 24th to 27th of March.
Thanks to its Chemical Imaging Technology, Sherlock food analyser makes it possible to quantitatively acquire chemical product parameters in food production flows.
This yields the advantage that time-consuming quality inspections to be made in the laboratory by way of sampling are a thing of the past and can be substituted by Sherlock's capability of enabling an in-line analysis.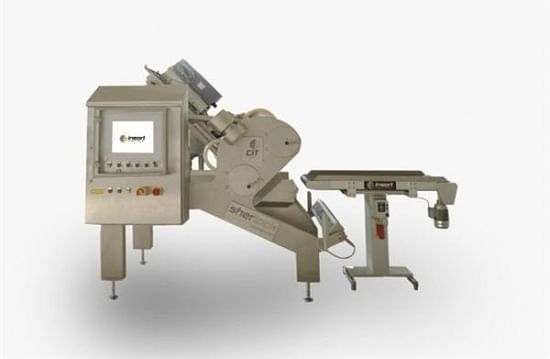 Insort's Sherlock Analyst
Approx. 80,000 measuring points that are directly provided in-line on the product flow help to furnish analytical results that excel by high precision in statistical terms and can directly be used for classifying quality, controlling processes or sorting. As the Chemical Imaging Technology (CIT) has a sensory system based on local resolution, this function can also be used for very heterogeneous foodstuffs.
Sherlock + Analyst to measure dry matter content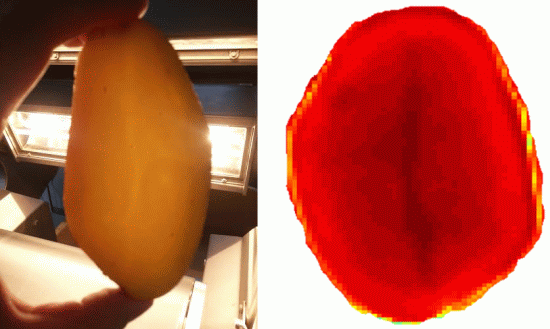 Dry matter in a potato
By way of example, we would like to mention the measurement of dry matter within the potato. The CIT image shows the distribution of dry substance within a potato. The water veins in the centre of the potato are clearly visible.
This analytical data acquired in-line helps to automate the process of potato processing and significantly increase the quality and output.
Furthermore, the raw products can be classified reliably and objectively at the receipt of goods. The final products, for their part, can be classified before the withdrawal of goods.
Additional functions enlarge the field of application as to create a comprehensive analyser
The peel scanning function, which makes it possible to control the steam peeling process for potatoes and thus enables the customer to save money, has already truly stood the test and helps to reduce peeling losses to a minimum.


The measurement of the length and width enables accurate acquisition of the product dimensions. Thus the customer is offered the opportunity of defining different size classes as needed and obtaining a statistics as an output.


A colour camera (RGB), which is obtainable additionally, serves to record colour defects and colour intensities of foodstuffs in-line very accurately and classify both raw products and final products.
Sherlock food analyser also is obtainable as an upgrade for the whole Sherlock Product Family, which has already perfectly stood the test when it comes to sorting defects and foreign bodies inherent in the product.
About the International FoodTec Awards
The International FoodTec Awards are organised every three years. The awards are presented by the DLG in conjunction with: the EFFoST (European Federation of Food Science and Technology) and Anuga FoodTec.
The prestigious accolades are being awarded to 18 innovations in the international food production and supplier industries – nine will receive the award in gold and nine in silver at a special ceremony at the Trade Fair in Cologne on 24 March 2015. Among the award-winners are companies from Denmark, Canada, the Netherlands, Austria and Germany.
Gold Medal Winners:
German Institute of Food Technologies (DIL, Deutsches Institut für Lebensmitteltechnik) (Quakenbrück/Germany) - High Moisture Extrusion
Fritsch GmbH (Markt Einersheim/Germany) - Multitwist twisting machine
GEA Food Solutions (Bakel/Netherlands) - GEA MultiDrum
Insort GmbH (Kirchberg/Austria) - Sherlock food analyser
Krones AG (Neutraubling/Germany) - Deaeration of fruit juices
Perfo Tec BV (Mijdrecht/Netherlands) - Respiration control system
Sealpac GmbH (Oldenburg/Germany) - Easy Lid
Stadtwerke Murau (Murau municipal utility company) (Murau/Austria) - Transformation of thermal energy systems
VEMAG Maschinenbau GmbH (Verden/Germany) - AML273 meatball loader
Silver Medal winners:
ALPMA Alpenland Maschinenbau GmbH (Rott am Inn/Germany) - ALPMA RO HighTS membrane system
Bruker Optik GmbH (Ettlingen/Germany) - MPA/LSM analysis system
Danish Meat Research Institute (Taastrup/Denmark) - 3D derinding of pork loin
Döinghaus cutting and more GmbH & Co. KG (Salzkotten/Germany) - Universal Ultrasonic Cutter
Intralox L.L.C. Europe (Amsterdam/Netherlands) - DirectDrive System
K+G Wetter GmbH (Biedenkopf-Breidenstein/Germany) - MW 200 mixer-grinder
Kuchenmeister GmbH (Soest/Germany) - Deodorisation and heat recovery
Linde AG (Pullach/Germany) - CRYOLINE®SI – IQF immersion freezing
Smart Skin Technologies Europe GmbH (Gammelsdorf/Germany/Canada) - Smart Skin Quantifeel©
All winning innovations will be on view at the DLG stand at Anuga FoodTec (hall 5.2, D 041).