English
A closer look at Lamb Weston's new Innovation Center

Earlier this year, Lamb Weston's opened its new Innovation Center in Richland.

Lamb Weston planned it as a state of the art, innovation center with co-creation spaces, fully functioning kitchens, pilot line, interactive areas and a resource for employees; in short a place where possibilities could become reality.

Having already started the building phase for the project, Lamb Weston approached long time collaborating agency Williams Murray Hamm (WMH) in March 2016 to create the overall theme and interiors. The Center opened to employees on 24 June and to Lamb Weston customers soon after.

WMH had previously helped Lamb Weston relaunch its new global positioning and identity: to be the most inventive potato company in the world. The Innovation Center would express this purpose and help find new, more inventive ways of collaboration between customers and Lamb Weston staff.

Intended as a flagship Lamb Weston US building, the Innovation Center needed to be a place that captured the imagination and be worthy of the claim 'if you dream it, you can make it here'.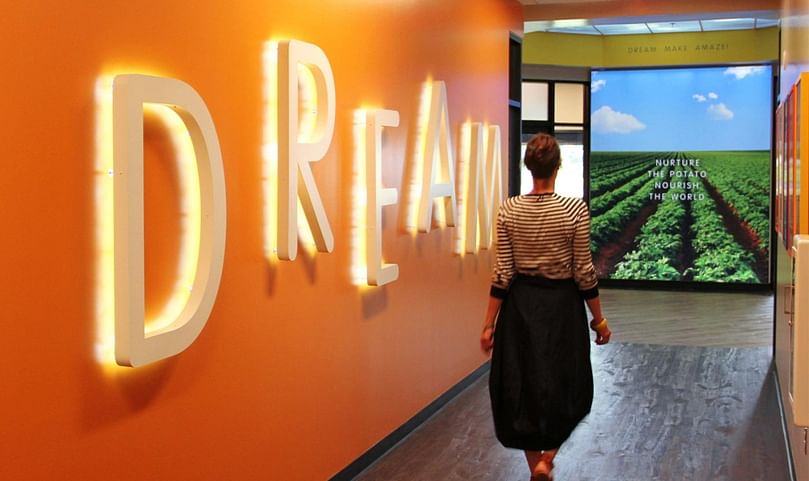 Interior view of Lamb Weston's Innovation Center in Richland, Washington
Using the playful design it had created for the brand identity, WMH produced a fully sensory experience for the many spaces in the Center.
Bright and light, visitors encounter witty and striking wall graphics at every turn. Interactive areas have been created to bring to life the history of the business, its vision and values and to relate employee stories. Breakout rooms inspire new and innovative ways of working together.
Deborah L. Dihel, Ph.D. senior director Research and Innovation at Lamb Weston:
"Our new Innovation Center is absolutely incredible. WMH was the perfect partner to help us communicate Lamb Weston's brand promise throughout the building in a distinctive and memorable way."

"The design elements set the stage as soon as our visitors see us from the street, and their experiences are enhanced further as they enter and work in the space."

"WMH's design communicates our history of successful innovation, yet at the same time, inspires all who enter to be futuristic, be inventive and make their potato dreams a reality."
A tour through the Innovation Center
Garrick Hamm, creative director of Williams Murray Hamm:
"We love working with Lamb Weston. Once again, WMH has been there to help them bring their Innovation Center to life."

"Their strength of purpose, reflected in the Innovation Center design, really encourages their employees and customers to be as inventive and imaginative as they like – the possibilities are endless".
Source
Williams Murray Hamm (WMH)