English
Bangladesh Retailers still charge higher than govt-set price of potato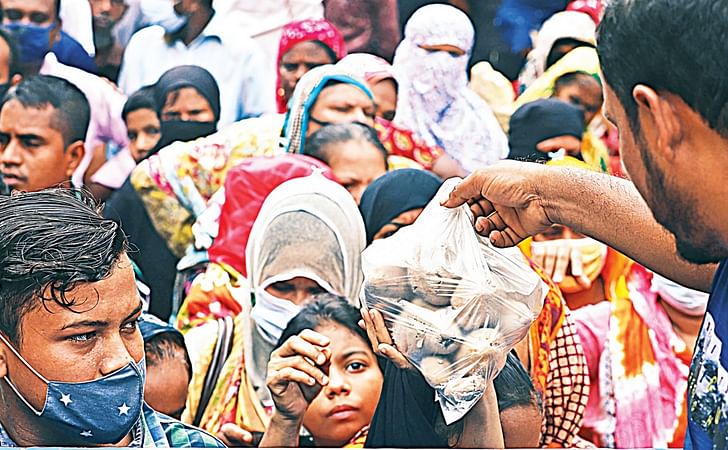 Potato was sold for Tk 42 to Tk 48 a kg in retail markets in the capital yesterday, a day after the government fixed the retail price at Tk 35.

Both retailers and wholesalers blamed poor supply for the higher prices.

Visiting Jatrabari kitchen market, this correspondent found that potato was being sold for Tk 42 to Tk 48 a kg.

Sharif Ahmed, Schoolteacher:
"I saw a TV report last night [Tuesday night]. It said the government has fixed the retail price of potato at Tk 35 a kg. But they [retailers] are asking for Tk 44 or more."
Swapan Mia, a retailer at the kitchen market, said he bought potato from Shyambazar wholesale market for Tk 38 a kg yesterday. He said he must have to sell the vegetable for Tk 44 a kg to make a profit.

Rabiul, a wholesaler at Karwan Bazar, said he received two truckloads of potatoes from a cold storage yesterday against his demand of eight truckloads of the tuber.

Shah Alam, another wholesaler at the market, said he received only one truckload of potatoes from a cold storage yesterday.
Shah Alam, another wholesaler at the market:
"The supply is quite poor against the demand."
Alam, however, claimed that the wholesale price has dropped to Tk 34 a kg.
Shah Alam:
"Tomorrow [today], the wholesale price might be go down to Tk 30 a kg."
Giving in to businessmen's demand, the Department of Agriculture Marketing (DAM) on Tuesday increased the price of potato by Tk 5 to Tk 35 per kg for retailers.

For wholesalers, the price was fixed at Tk 30 a kg and Tk 27 at the gate of cold storages.

Earlier on October 7, the DAM had fixed the potato price at Tk 30 at retail level and Tk 25 for wholesalers. It also set the price at Tk 23 per for selling the vegetable at the gate of cold storages.

After holding a meeting with businessmen at his office in Khamarbari on Tuesday night, DAM Director-General Mohammad Yusuf said they increased the price following a demand from businessmen.

According to the Bangladesh Cold Storage Association (BCSA), 85 lakh tonnes of potatoes were produced in the country this year. But only 40 lakh tonnes were preserved in cold storages due to transport and labor crisis amid the Covid-19 pandemic.

About 55 percent of 40 lakh tonnes of potatoes have already been sold in the market. Of the remaining amount, 10 lakh tonnes are seed potatoes which will be used for cultivation next month.

Sources said the newly harvested potatoes are supposed to hit the market by the end of December as the cultivation was delayed due to flooding.