English
The Bangladesh Cold Storage Association (BCSA) suggests a subsidy per kg of potato stored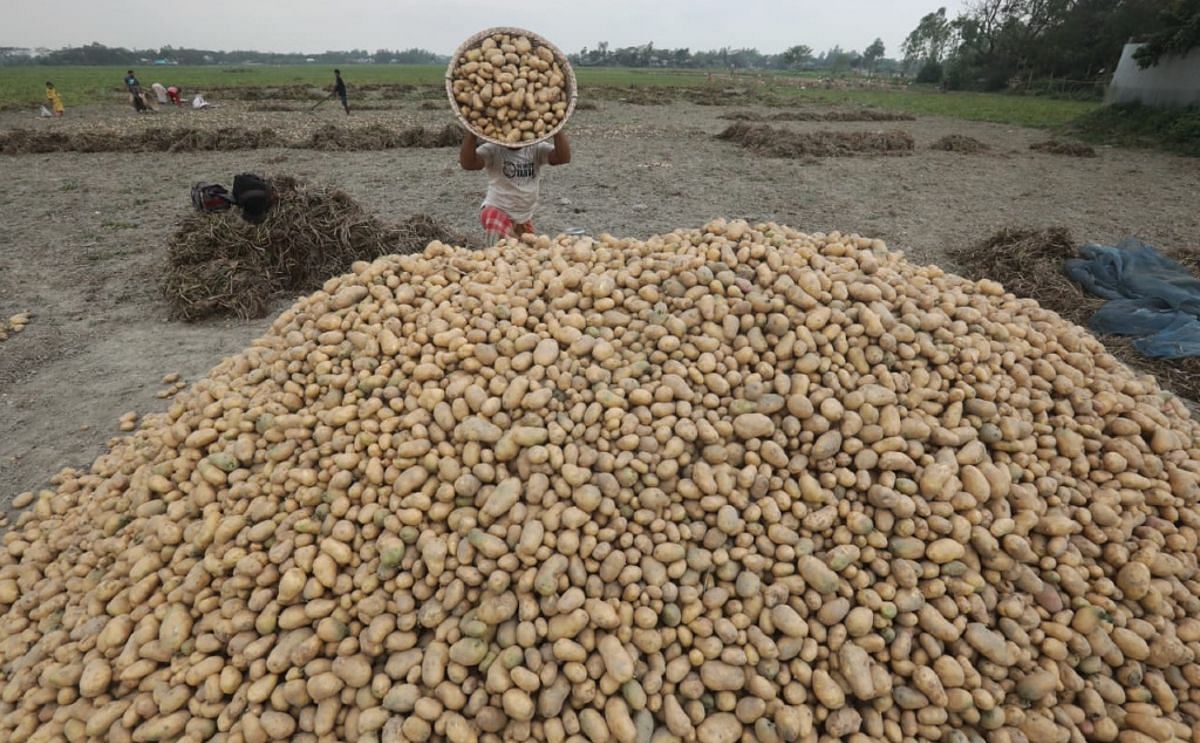 The annual demand for potatoes in Bangladesh is about 9 million tons. The Bangladesh Cold Storage Association (BCSA) urged the government to provide a BDT 9 (USD 0.11) subsidy over per kilogram of potato stored in various cold storages in the country. During a press briefing on Saturday, it sought immediate aid to save millions of rural farmers due to the situation led by the Covid-19 pandemic.
Citing the bumper yield of potato in recent times, it further asked to halt the electricity bills of the cold storages for September and October and installment facilities to pay the rest of the amount.BCSA President Md Mosharaf Hossain said that over 11 million tons of potatoes are being produced due to the cultivation in more lands in the current year.
About 4 million tons of potatoes were stored in 400 cold storages in March and April. The annual demand for potatoes in Bangladesh is about 9 million tons. As such, there is a possibility of having a surplus of about 1.5 million tons of potatoes.
Mosharaf Hossain: 
"If the government does not take timely action on the use of these surplus potatoes, the market will collapse like last year."
It is also noted that marginal farmers, small and medium traders, banks, and cold storage owners will suffer from financial losses like 2017, 2018, and 2019. The losses of individual and cold storage owners exceeded BDT 12,500 crore in 2017 due to the catastrophic landslide in the potato market.
Mosharaf Hossain: 
"Frustrated by that year's business losses, several cold storage owners have died of heart attack and several marginal farmers and traders have committed suicide."
This is since hotels, restaurants, shops, residential halls were mostly closed in 2021 due to coronavirus infection and the use of potatoes has decreased due to the lack of people's movement, BCSA highlighted in the brief.
Mozammel Chowdhury: 
"The potato comes to our tables after it goes from the farmer to the wholesalers to the vendors."
He added that the association had already spoken to the agriculture minister and the authorities so that the country's diplomatic missions abroad could work on increasing exports. This year, 11 million tons of potatoes were produced in the country but only 35,000 tons were exported.
Abdur Razzak, Agriculture Minister of Bangladesh: 
"All possible cooperation will be provided for the export and processing of potatoes."
He said that the country currently produces more than 10 million tons of potatoes a year. But potato chips such as pringles need to be imported from abroad at a high price. Institutions involved in potato processing and value addition in the country need to produce quality chips, french fries.
Abdur Razzak: 
"We need to find out what other products can be made using the versatility of potatoes."