English
Product Description
PPM Technologies offers plastic and stainless steel drums in both standard and custom sizes, adapting to various diameters and lengths to suit the application as needed.
Their enhanced drum flight design stems from years of research and development; we've tested countless products in order to find the optimal flight angle and number of flights to achieve unparalleled product coverage with increased turnover and reduced breakage.
PPM's drums utilize a two-wheel drive system with a washdown motor and include a VFD for speed regulation. Drum frames are customizable, can be caster-mounted for portability, and allow operators to easily adjust the drum's discharge angle to control product dwell time. 
Safe Materials and Flexible Designs
PPM offers a variety of standard coating-drum designs, whether you're dealing with loss-in-weight powder applications or need precise low- and high-volume liquid applicators.
The line includes in-line vibratory weighing conveyors that feature their patented Libra™ system, with closed-loop integrated control and non-stick materials.
Stainless Steel DrumsPlastic Drums
Their plastic drum line takes advantage of the same enhanced flight design as our stainless-steel drums, with bi-directional flights seamlessly molded into the circumference of the drum to provide gentle product handling for minimal breakage and maximum coverage.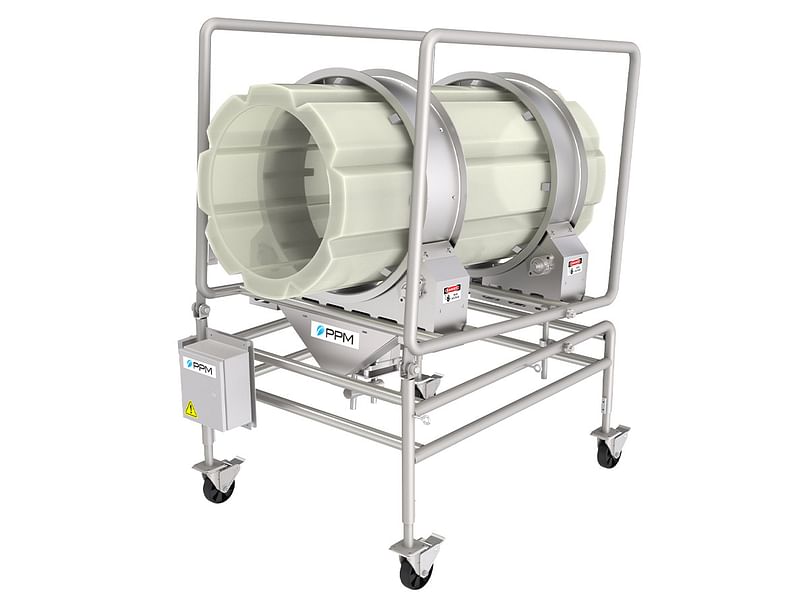 PPM Plastic Drums
PPM's plastic drums feature anti-static properties, with a non-stick finish to resist buildup of product inside as well as outside the drum, and they're manufactured entirely from USDA-approved materials that meet FDA regulations for direct food contact. 
OMS: On-Machine Seasoning
PPM Technologies on-machine seasoning systems are specifically designed to directly feed multi-head weigh scales. Their OMS systems utilize a low-profile, single-pedestal mount, with a drum that features a unique removable plastic liner to allow easy replacement for quick changeovers and easy cleaning.
The liner is held in place magnetically, requires no tools to insert or remove, and can be comfortably handled by a single operator. OMS systems save operators time and space, and allow them to adapt to seasonal product variations or even daily SKU changes without having to reconfigure production lines. 
Product Specifications
Performance Higlights
Enhanced flight design with scalene tri-angle shape to handle different products
Complete washdown
Large speed and angle adjustment
Universal mounting for PPM Equipment
Bi-directional drum rotation
Non-stick materials
Product Testing and Development Program
PPM can help you develop the most efficient seasoning and coating process for your specific needs, through their product testing and development program.
With multiple complete seasoning systems available, their technicians are prepared and ready to help you test powder, oil or slurry applications.
News related to this product
Products offered by the same supplier(s)