English
PPM Mini VF Electromagnetic Vibratory Motion Conveyor
PPM Mini VF Electromagnetic Vibratory Motion Conveyor
Product Description
The PPM Technologies Mini VF is a small yet powerful electromagnetic vibratory motion conveyor that boasts a variety of versatile mounting options, adjustable feed rates, an open and sanitary design, low maintenance costs, and a long and dependable life cycle.

The Mini VF uses a universal low-frequency drive with a fully adjustable stroke to give you total control of production flow rates. Equipped with an accelerometer and PPM's patented feedback sensor, the Mini VF is highly responsive and makes continual automatic adjustments to ensure production rates are never compromised.

The Mini VF's innovative drive design replaces hundreds of parts that are needed for conventional vibratory conveyors – making it the most reliable and cost-efficient vibratory conveyor on the market today.

The Mini VF's simple, compact design makes it the ideal solution for a variety of conveyance applications, including feeding to multi-head weigh scales, seasoning drums, optical sorters and more.

Capable of gently handling a wide range of products including snack foods, nuts, cereals, confectionary products and vegetables at speeds of up 60 feet per minute, the Mini VF will add measurable value to your processing line.
 The VF Line: An industry standard

PPM's VF range of conveyors continue to be the reliable and proven workhorses of the food industry, after more than 30 years. The versatile drive design allows a lineup of conveyors that suit a huge range of applications – from snack foods, nuts, baked goods, dried fruits and cereals to frozen and wet products.
Product Specifications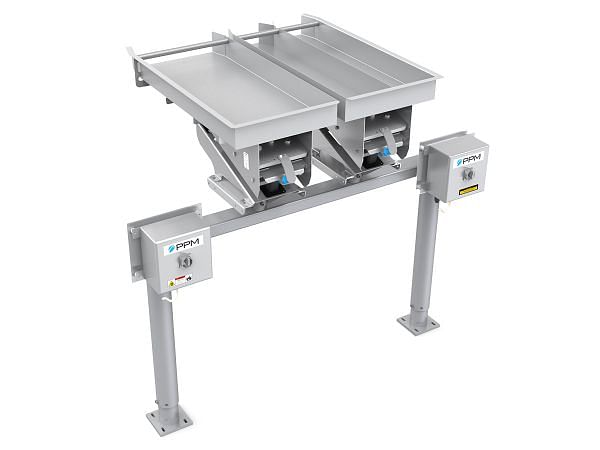 Mini VF – with optical sorter feeders
Performance Highlights
Open, sanitary design
Long life and low maintenance costs
Adjustable feed rate
Effective product metering
Optimum performance with control signal
Versatile mounting
Most Popular Applications
Multi-head weigh scale feeders: Peripheral-type discharge evenly distributes product to all scale buckets
Optical sorter feeders
Product blending Small parts handling
SpecificationsConstruction:
Length:
4′ to 8′ (1.2m to 2.4m) long
Width:
6" to 24" (152mm to 610mm)
Voltage:
230V/50-60Hz/single- or three-phase
Options:
Includes standard mounting base
Pedestal mount, hanging trough and rolling base kit available
News related to this product
Products offered by the same supplier(s)