English
Board of Directors Approves Separation of Kellogg Company into Kellanova and WK Kellogg Co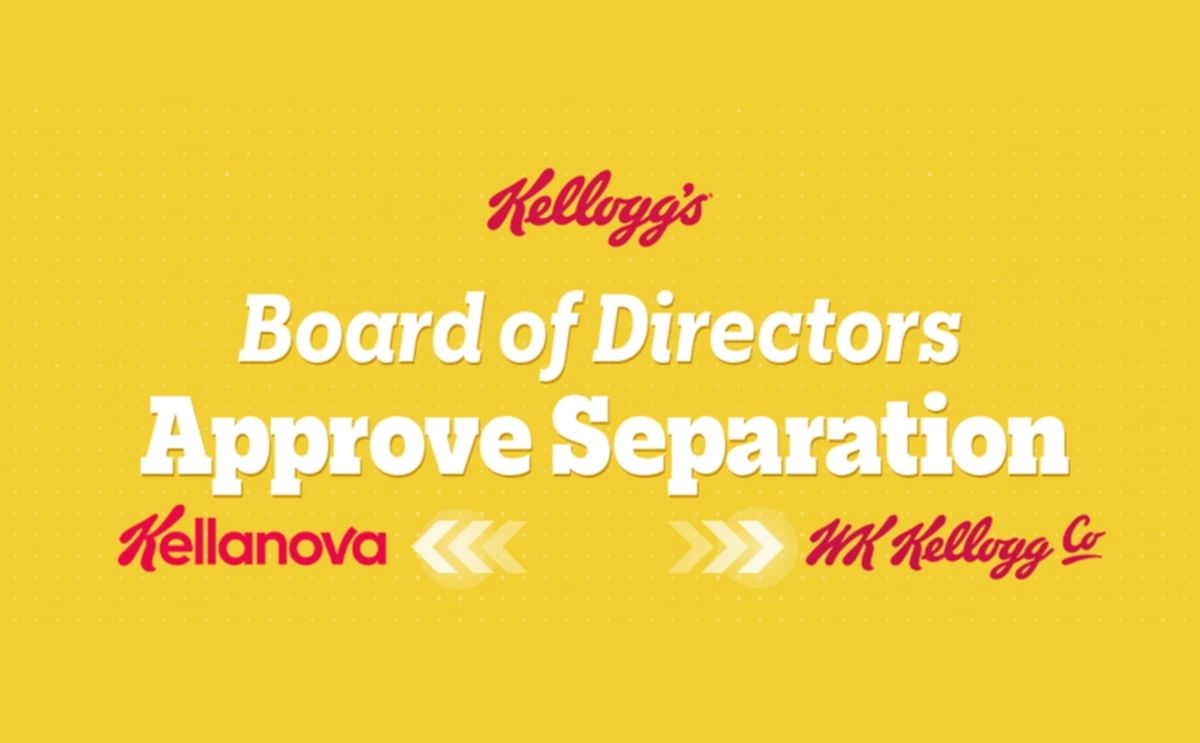 After much talk in the industry, Kellogg Company has given us an update on how it will move forward with its separation. The two independent, publicly traded companies, Kellanova and WK Kellogg Co, have been formally approved by the Board of Directors, and the separation will be completed on October 2, 2023.
Kellogg Company to be renamed Kellanova and featuring a portfolio that is weighted towards snacking and emerging markets, while WK Kellogg Co will build on the foundation of its cereal brands and focus and integrate its commercial strategy and execution. Steve Cahillane, Chairman and CEO of Kellogg Company, will remain Chairman and CEO of Kellanova.
Steve Cahillane, Chairman and Chief Executive Officer at Kellogg Company: 
"After more than a year of comprehensive planning and execution, we are more confident than ever that the separation will produce two stronger companies and create substantial value for shareowners."
On the New York Stock Exchange (NYSE), Kellanova will continue to trade under the ticker symbol 'K', while WK Kellogg Co is expected to begin trading on the NYSE under the ticker symbol 'KLG'. The company has set the distribution ratio of shares at 1 share of WK Kellogg Co for every 4 shares of current Kellogg Company.
Steve Cahillane: 
"We are looking forward to a new era as Kellanova, marked by a more growth-oriented portfolio, a renewed vision and strategy, and an energized organization grounded by a winning culture and our founder's values."
Kellanova is projected to generate net sales of approximately USD 13.4-USD 13.6 billion and adjusted-basis EBITDA of approximately USD 2.25-USD 2.3 billion in 2024, with an expectation of long-term growth delivery of 3-5 per cent for net sales (organic basis), 5-7 per cent for operating profit (currency neutral and adjusted basis), and 7-9 per cent for earnings per share.
Gary Pilnick, who will serve as WK Kellogg Co's Chairman and CEO following the separation, said WK Kellogg Co has a 117-year legacy of innovation and the soul of a start-up, with an organisation incredibly energized by its future.
Gary Pilnick, Chief Executive Officer Designate at WK Kellogg Co: 
"As a standalone company, we will benefit immediately from the executional advantages of increased focus and end-to-end integration while we modernize our supply chain and substantially improve our profit margins. We're on a profitable journey to take this great business to the next level."