English
Product Description
The Sormac knife peelers MS are suitable for continuous peeling of pre-washed or pre-peeled root products, like potatoes, red beet, celeriac, etc. The produce to be peeled is conveyed by a transport auger through a horizontal, rotating drum.
The inside of this drum is equipped with many knives. The dwell time and peeling effect can be controlled by varying the RPM of the drum and the speed of the transport auger. The special shape of the drum and the way the knives are positioned effectively avoids the produce from being flat peeled.
The peeling waste is separated from the peeled product immediately and ejected by the rotating drum. The waste can be collected for removal in a crate or waste transporter via the waste funnel at the base of the machine.  
Features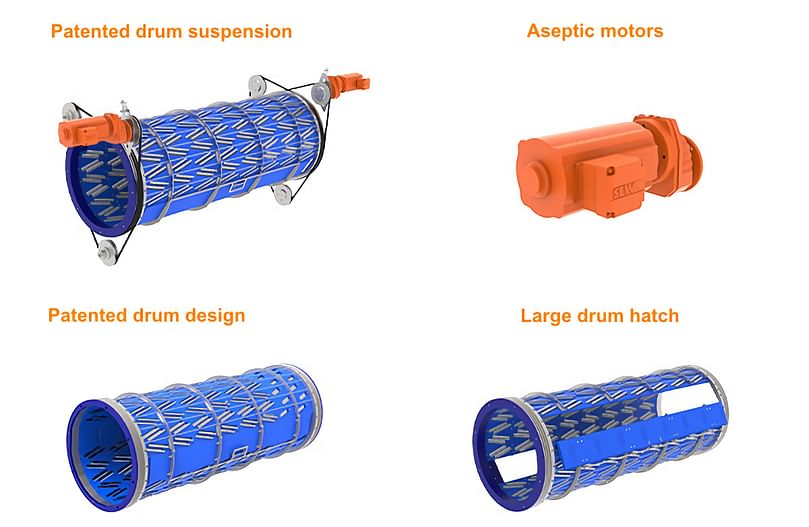 Sormac Knife peeler MS Features
Patented drum suspension
Floating suspension for quiet and stable drum rotation. Hardly any friction and few wearing parts
Aseptic motors
The motors are sealed hermetically and protected against jets of water (IP66); no unnecessary air movement over the product.
Patented drum design
The entire product surface is peeled; flat peeling is avoided.
Large drum hatch
A hatch over the full length of the drum provides easy access to the drum and the transport auger for cleaning and inspection.
Product Specifications
Washed (round) tuberous products of a diameter of between 30 and 180 mm. There must not be any stones or sand residues in or with the product.
Capacity
The MS-20 knife peeler has a peeling waste capacity of 600 to 700 kg/h. With 40% waste, the input capacity is therefore 1,500 to 1,750 kg/h.
When polishing a pre-peeled product (waste percentage of approx. 20%) the input capacity is consequently between 3,000 to 3,500 kg/h. The capacities of the MS-30, MS-20/Combi, and MS-10 are approx. 150%, 80% respectively 50% of the capacity of the MS-20.
Options
Waste transportation system
Excentric type EAP waste pump.
Technical data
Type: MS-10
Voltage: 400V, 3ph, 50/60Hz
Installed power: 2.38 kW
Dimension (LxWxH): 2,270 x 1,400 x 2,360 mm
Water consumption: 0 - 1.2 m3/hr
Drum length: 1,000 m 2,000 mm 3,000 mm
Type: MS-20, MS-20/Combi
Voltage: 400V, 3ph, 50/60Hz
Installed power: 2.57 kW
Dimension (LxWxH): 3,250 x 1,400 x 2,360 mm
Water consumption: 0 - 2 m3/hr
Drum length: 2,000 mm
Type: MS-30, MS30/Combi
Voltage: 400V, 3ph, 50/60Hz
Installed power: 6.75 kW
Dimension (LxWxH): 4,210 x 1,435 x 2,565 mm
Water consumption: 0 - 2.8 m3/hr
Drum length: 3,000 mm
Products offered by the same supplier(s)