English
Herr's issued Recall of Select Bags of 1.875 oz. Sour Cream and Onion Potato Chips with Packaging Error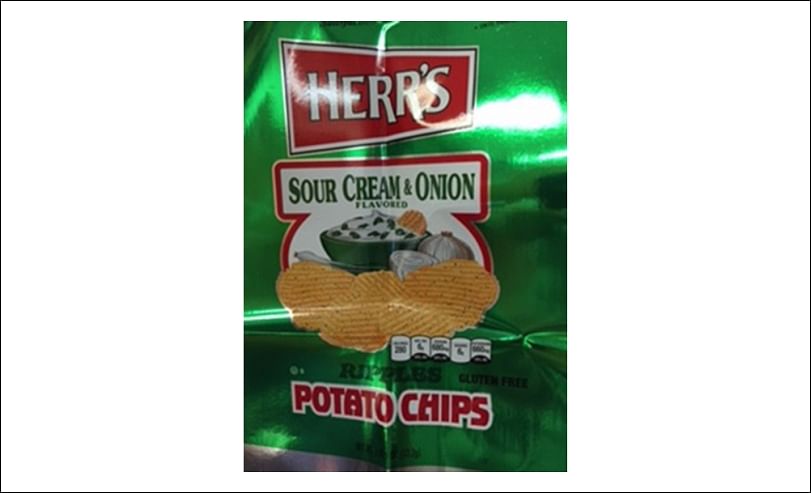 Herr Foods Inc. has initiated a voluntary recall of certain bags of its 1.875 oz. Sour Cream and Onion Potato Chip due to a packaging error that incorrectly states that the product is gluten free.
While the back panel of the package complies with U.S. Food & Drug Administration (FDA) label regulations by listing "Wheat" in the ingredient statement as well as "Contains Wheat" in its related allergen statement, the front panel of the package erroneously features the words "Gluten Free." Gluten is the protein that naturally occurs in wheat, rye, barley, and crossbreeds of these grains. Most people can eat gluten, but in people with celiac disease, gluten intake gradually damages the intestines, prevents the absorption of vitamins and minerals, and can lead to other health problems. Symptoms can include diarrhea, fatigue, headaches, abdominal pain, brain fog, rashes, nausea, vomiting, and other reactions. Herr's has not received any reported illnesses to date.
Herr's Sour Cream & Onion Potato Chips, 1.875 oz. bags only, were distributed nationwide through retail stores, distributors, and internet sales. These products were sold as individual bags. No other bag sizes of Herr's Sour Cream 'N Onion Chips are involved with this recall. No other Herr's products are involved with this recall.
RECALLED PRODUCT
| Product Name/Description | Code Date | UPC No. | Herr's Product Code |
| --- | --- | --- | --- |
| 1.875 oz. Herr's Sour Cream & Onion Potato Chips | January 02, 2016, up to and including January 30, 2016 | 72600 00061 | 122 |
The packages are a green metallic color bag with a red Herr's logo at the top center of the package. The lot number is located at the upper right hand corner on the front of the package below the statement "Guaranteed Fresh Until". The UPC number is located at the lower right hand corner of the back panel of the package.
Herr Foods announced the recall to prevent consumers who are allergic or sensitive to gluten from consuming this product. Consumers with wheat allergies, celiac disease or gluten intolerance should not consume them and should return them to the retailer where they were purchased for a full refund. Herr Foods and other retailers are removing recalled product from the retailers' shelves. As a result, consumers can be assured that all other Herr's products that remain on-shelf are safe and not subject to this recall.
Consumers with questions may call 1-800-523-5030. Live assistance is available 9am- 5pm EST, Monday thru Friday.