English
NNZ and Fresh Solutions Network debut Amazables microwaveable potato
NNZ Inc., along with Fresh Solutions Network/Basin Gold Cooperative, debuted the Amazables! microwaveable potato at the International Fresh Produce Association's Foodservice Conference, July 28-29 in Monterey, California.
Steve Greenfield, director of sales and marketing for NNZ Inc., Lawrenceville, Ga.: 
"This product is a microwaveable russet potato that is packaged in a specialized film that actually bakes the potato and crisps the skin in the microwave. The result will be an oven-baked potato from the microwave."

"We are currently in a pilot test with a major retailer, but we also thought this product is perfect for a few foodservice vertical markets"
Amazables! makes a healthy vending machine option for hospitals, college campus, and company breakrooms, according to a news release.
It's also perfect for hotel pantry areas as a nutritious, great-tasting option for guest room microwaves, according to the release.
Kathleen Triou, president and CEO of Fresh Solutions Network: 
"Since 2014, we've been bringing the foodservice sector premium-quality potatoes under the A Cut Above brand. Chefs are always looking for ways to keep up with their customer's demand for comfort-centric, craveable favorites."

"Add that to the trend towards plant-based everything, and potatoes rise to the level of signature program status for restaurants — a major demand driver in menu development."
Related Companies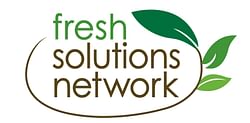 Fresh Solutions Network, LLC
Fresh Solution Farms is the flagship facility of the network bearing its name. Fresh Solutions Network Partners grow, pack, sell and deliver potatoes and onions directly to their retail and foodservice customers, providing seamless, transparent product supply and service.