English
Europatat participates in PATAFEST, a new Horizon Europe project to protect potato plants against emerging new pests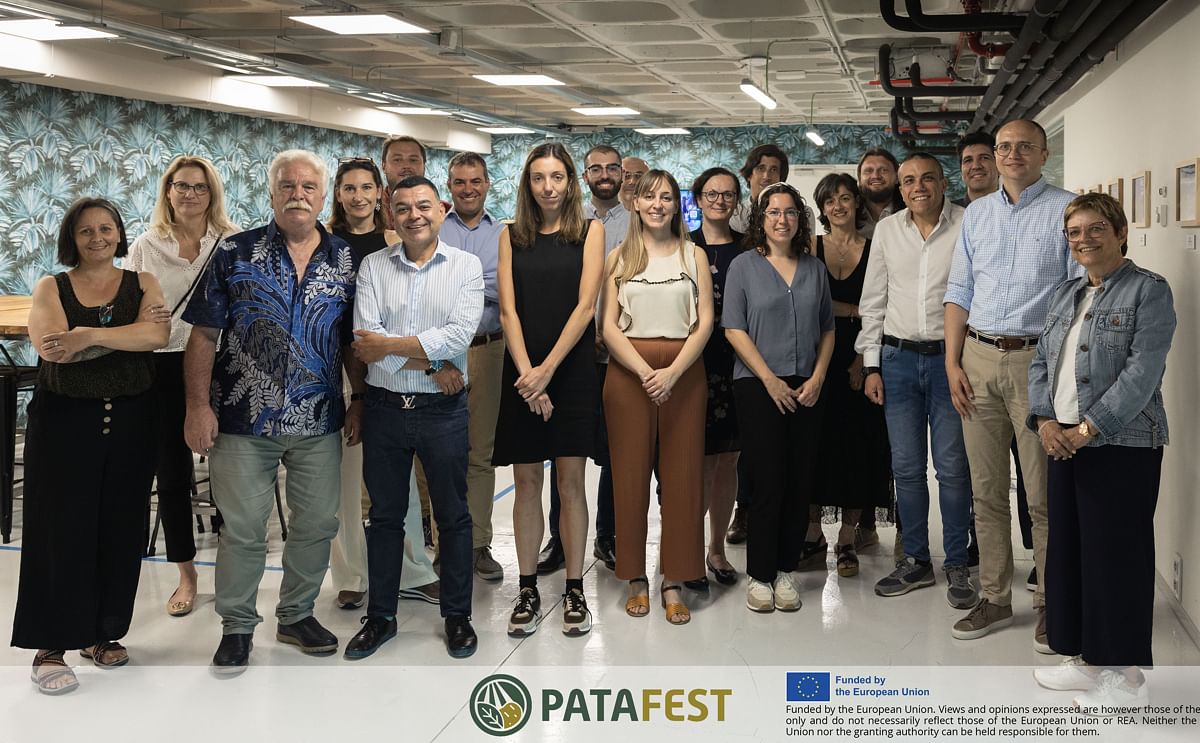 Europatat is proud to become an active partner of a new EU Horizon Europe project called PATAFEST that aims at protecting potato plants by means of pest spreading and resistance characterisation, preharvest treatments, and post-harvest solutions. PATAFEST project was officially launched on 20 and 21 June 2023 in Madrid, Spain.
Potato is a key crop in Europe (EUR 12.4 billion (USD 13.5 billion, 2020). However, it is considered vulnerable to a variety of pests and soil borne pathogen diseases. One of the most important pests is caused by bacteria Candidatus Liberibacter solanacearum (CLso), causing a disease known as zebra chip (ZC).
The introduction of CLso bacterium on potato is mainly linked to the presence of the vector psyllid Bactericera cockerelli (BC) causing severe damage, both in terms of yield losses and quality.
Main potato postharvest diseases as dry rot, black dot and silver scurf, are caused by soil-borne pathogens that have incidence in both field and storage. All these potential threats may result in significant economic losses in the potato industry and food losses.
To avoid these potential risks, the project PATAFEST will develop a unique approach to identify resistance genes in potato varieties against selected pests and pathogens in order to develop innovative strategies to control the spread of potato pests and reduce potato post-harvest diseases. More concretely, the project will: 
Characterise at molecular level the ecological pest spread pathway and identify potato disease resistance varieties against CLso and postharvest pathogens;
provide effective preharvest plant and soil treatments against CLso vector and soil-borne pathogens combined with other cutting-edge digital technologies such as image analysis tools (mobile app) and artificial intelligence predictive models;
develop postharvest technologies (biocontrol coating solution, controlled atmosphere storage and volatile organic compounds (VOCs) sensors) to control the incidence of soil pathogens and maintain the quality of potato tubers stored.
PATAFEST consortium is composed by 18 partners, including the international cooperation with Ecuador, and led by Funditec. The consortium met in Madrid (Spain) on 21 and 22 June 2023 to officially kick-off the project, wich will run until May 2027.
During the 2-day meeting, project's partners gathered to present their organisations and discuss and organise the first tasks to be done in the coming months. Europatat's role in PATAFEST will be related with the dissemination of project's goals, results and to provide the link between the research and EU policy makers.
Participating members of PATAFEST Project:
1. FUNDITEC - FUNDACION TECNOLOGICA ADVANTX
2. NEIKER - INSTITUTO VASCO DE INVESTIGACION Y DESARROLLO AGRARIO
3. INIAP - INSTITUTO NACIONAL AUTONOMO DE INVESTIGACIONES AGROPECUARIAS
4. IRIS IRIS TECHNOLOGY SOLUTIONS
5. KNEIA
6. UDAPA
7. CHEMIA
8. UNIVERZITA PALACKEHO V OLOMOUCI
9. TECHNION - ISRAEL INSTITUTE OF TECHNOLOGY
10. EUROPATAT
11. UNIVERSITA DI BOLOGNA
12. HANS WILLI BOHMER VERPACKUNG UND VERTRIEB GMBH &
13. VEREIN DER EUROPAEISCHEN BURGERWISSENSCHAFTEN - ECSA E.V.
14. ANECOOP SOCIEDAD COOPERATIVA
15. TERREA
16. AINIA
17. ALBERT BARTLETT AND SONS LTD
18. CRUN CRANFIELD UNIVERSITY
PATAFEST is funded by the European Union via the EU Horizon Europe programme (project number 101084284) with a total budget of EUR 6 097 603.75 (USD 6 659 772.33).