English
2020: NDC's 50 year anniversary and the introduction of the Series 9 On-Line Food Gauge

NDC Technologies is a global leader in intelligent on-line and at-line process measurement and control solutions for the food, bulk materials and tobacco industries.
And 2020 marks a very special year for the company.

In September 1970, Dr Rodger Edgar and Dr Peter Hindle developed a pyrometer (a thermometer you point and take readings) for a breast cancer clinic in Lewisham, UK. They quickly developed a non-contact measurement device using near infrared (NIR) reflection technology to measure the moisture content in a variety of applications including paper manufacturing, pottery and tobacco processing.

Shortly after, Professor James Ring and Malcolm Nolan financed production of the "Hindle-Edgar Infragauge" and hence Infrared Engineering was born.

Fast-forward 50 years, and the highly accurate and reliable measurements using the same NIR principles are still seen in today's NDC Technologies' products. Only now they are capable of not only measuring moisture, but also key constituents in a vast array of applications including fat/oil, protein, degree of brownness, sugars, nicotine, total volatiles, coatings, film thickness and much more.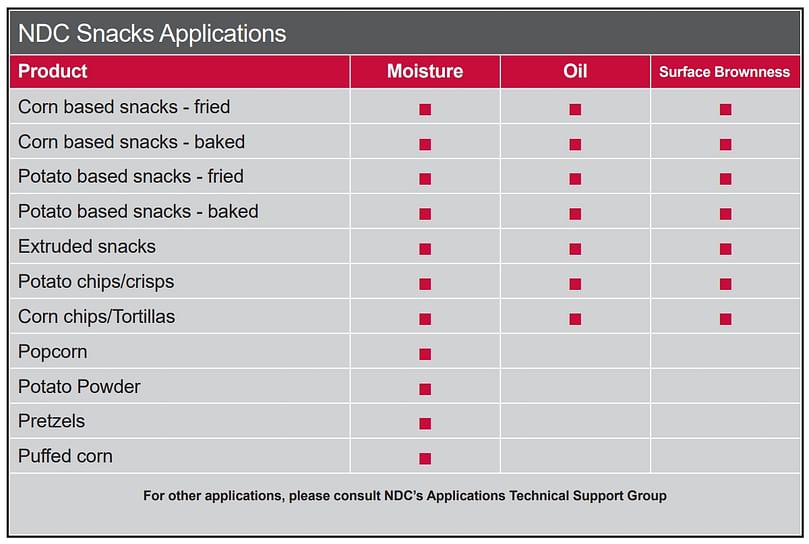 NIR has a wide range of applications in potato processing and the savory snack industry, both inline and at line
Coinciding with this 50-year celebration is the launch of NDC Technologies' 9th generation of in-process NIR gauges – the aptly named Series 9. This unique, next-generation gauge uses the half-century expertise of the organization, while also offering a future-proof platform that is scalable and integrates easily into any manufacturing process.

Delivering immediate and long-term value to food production processes, the Series 9 gauge, a future-proof platform, provides the following benefits to customers:
Lowest cost of ownership – NDC's unique applications engineering approach to delivering out-of-the-box, on-line measurements, along with Series 9's easy operation and maintenance, enables manufacturers to realize immediate and long-term value over the lifetime of operation.


Greater process vision – Series 9 opens new measurement opportunities, allowing manufacturers to perform more comprehensive measurements in unique applications. The system provides process vision far beyond that of conventional in-process measurement systems. Users can effectively perform single- or multi-component measurements of moisture, fat/oil, protein and other key constituents across a wide range of food processing applications.


Optimize process and product quality – Series 9's fit-for-purpose design, coupled with stable, dependable measurements, maximizes the ability to operate processes at peak efficiency and deliver the highest quality.


Scalable to meet current and future plant requirements – Series 9's flexible building-block architecture, combined with intuitive functionality, advanced process connectivity and adaptable integration, allows manufacturers to scale NDC's gauging system to meet their current and future needs.
Andy Grady, Product Manager for NDC's food business:
Series 9 is a significant new product introduction. Building on the tremendous legacy of our Series 710e gauge, the Series 9 raises the bar for on-line measurement by providing our customers with a platform to maximize process performance and KPIs.
Products
NDC Technologies - Series 9 Food Gauge
Series 9 gauge delivers immediate value to your food production. It is your next-generation process optimization solution for measuring moisture, fat/oil, protein and other key constituents.
NDC Technologies - InfraLab Food Analyzer
The InfraLab e-Series At-Line Food Analyzer provides rapid accurate measurement of moisture, fat and protein in single- or multiple-component configurations in a variety of food products.