English
Bangladeshi scientists seek regulatory approval for a GMO potato resistant to late blight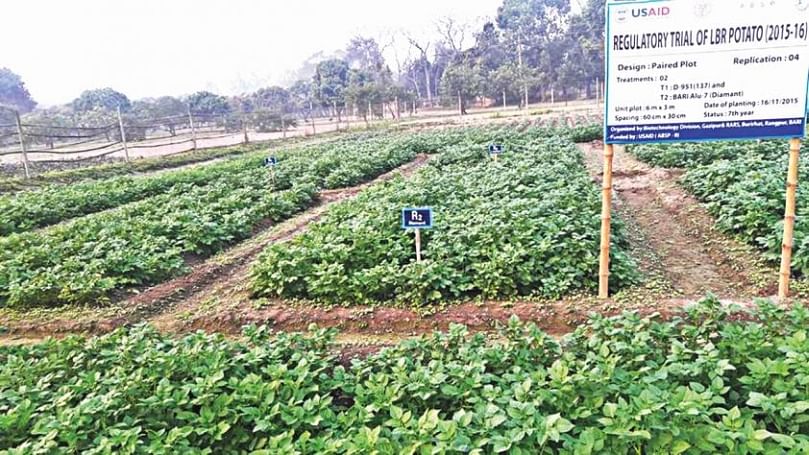 Scientists in Bangladesh have successfully field-tested a genetically modified (GMO) potato resistant to late blight, one of the most devastating potato diseases. Once the last trial is over in February, Bangladesh Agricultural Research Institute (BARI) will approach regulators for approval of the late blight resistant GMO potato. Once released, the potato will be farmers' answer to late blight, BARI officials have said.

Late blight, responsible for the 19th century Irish potato famine that had led to one million deaths from starvation, still affects more than 3 million hectares of potato crops globally and causes economic losses estimated at $ 2.75 billion a year, according to the International Potato Center (CIP), which is helping Uganda develop GM potato.

In Bangladesh, BARI is developing late blight resistant potato in cooperation with the Agricultural Biotechnology Support Project II (ABSPII), a USAID-funded consortium of public and private sector institutions supporting scientists, regulators, extension workers, farmers and the general public in developing countries to make informed decisions about agricultural biotechnology.

Breeders involved in developing the GM potato since 2006 at BARI said the RB gene was taken from wild potato varieties and was infused into a potato variety called Katahdin in the United States. They said it was crossed with Diamant and Cardinal -- two popular potato varieties in Bangladesh.

Md Abu Kawochar, scientific officer of BARI's Tuber Crops Research Centre (TCRC), said, "Since 2006 we've exhausted all trials from laboratory to greenhouse to field tests to multi-location tests. Now the regulatory trial is going on in six sites in the country and all these have shown positive results."

Abu Kawochar said nutrient composition test, toxicology test, and efficacy test -- all were complete. "We'll be able to apply for variety release after the current regulatory trial is over."
Potato varieties mentioned